The demo version of Capcom's anticipated take on the swords and sorcery genre is winging it's way to consoles this month.
Capcom is almost a dirty word at this point for many players as the company's attitudes towards dlc and 'ultimate' editions of games has been picked apart with a tweezer of late. All that does't change the fact that Dragon's Dogma is looking like it's something special though.
If you're itching to get your hands on it as soon as dragonly possible, then you're in luck. The Japanese gaming giant has just announced that the title will indeed have a playable demo version and that it will be gracing home consoles (the Xbox 360 and the PS3) on the 24th of this month. The EU PSN will have to wait that customary 'one more day' though, they'll be getting it on the 25th.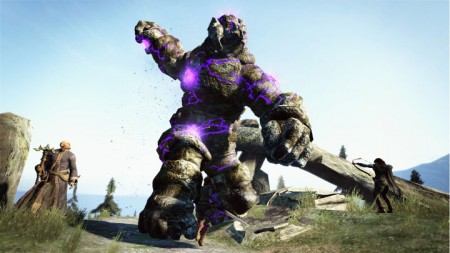 It's a pretty beefy demo too- giving players the ability to play through a few scenarios and customize their characters. Cooler still is that the demo even allows for the export of those created characters into the main game upon it's release. Pretty slick.
With your party of three Pawns, the demo allows you to experience the different styles of two of the game's character classes in two challenging encounters.

A melee specialist skilled in both attacks and counterattacks, as the Fighter you will make your way through underground tunnels and chambers before taking on the deadly Chimerain a Prologue quest, set before the events of the main game.

Swift and nimble, the Strider's weapons of choice are bow and daggers, use them well if you are to defeat the mighty Griffin in the open plains surrounding the capital of Gransys.

Let your imagination run wild and design both your playable character and main Pawn using the game's incredibly in-depth character creation tools before you take on the Griffin; purchasers of Dragon's Dogma will then be able to export both these characters into the full game on its release.
Dragon's Dogma releases in all its final version glory on May 22nd in North America and May 25th in Europe.