These pigs are hungry……hungry for blood! (Well, actually it's eggs….but blood sounded *way* more dramatic).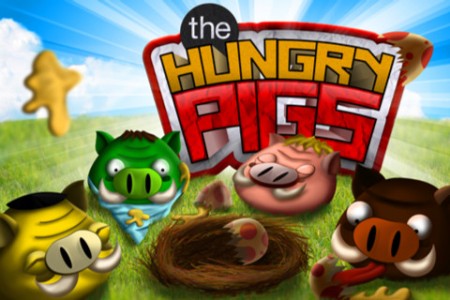 In a style you're sure to recognize, The Hungry Pigs pits rolling pig heads against nests full of eggs, in a physics based fight to the finish. You play as the pigs, and those darn birds leave their eggs in the most inconvenient places.  You'll need to bounce in the air, fly across gaps, and roll your little heart out to get your next meal. With each level getting progressively more difficult (and often adding different functions to your pigs), this is a game that will have you cussing at your iDevice of choice (and having a great time while you do it).
The basic control device behind your Hungry Pigs action is your iDevice itself (we used iPod Touch for this review, so we'll refer to that here). You need to tilt and roll and generally look like an idiot waving the thing around to get the pigs to roll where you need them to go. Doesn't work too well for bumpy car rides, but it's a lot of fun on stable ground. Those pigs are very touchy, and you'll often need to get them into just the right spot before launching them in the air – and there are those pesky spikes and mama birds to avoid as well. It makes for some very challenging action.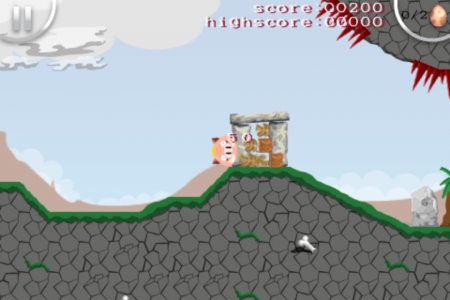 Some of the pigs can do more than roll. Different colors of pigs have different attributes, from being able to fly short distances to being able to launch into the air. You don't get to pick which pig you use – they go in order, so sometimes you're stuck with a pink pig when a green one would work really well. That's part of the challenge, I suppose. You also are limited with the higher functioning pigs. You can only launch, fly, etc. three times before they explode. This can be extremely frustrating, as you finally get the darn thing up above a nest only to watch it explode before touching those elusive eggs. And there are some pigs whose function is to explode, which can obviously only be used once. You really have to examine the levels and plot out a strategy if you want to advance in this game.
You are unlimited in lives, if not in pigs, so you can play each level over and over as many times as you need to master it. That's a good thing, because you aren't able to advance to the next level without mastering the one before it. As I said, the levels get progressively harder, so that's a good thing, in a way. You can't expect to master complicated levels without figuring out the ones that come before them. It does lead to some frustration at times, so it's also good that The Hungry Pigs has short levels that can be paused at any point. You can just put a level on hold and come back to it later.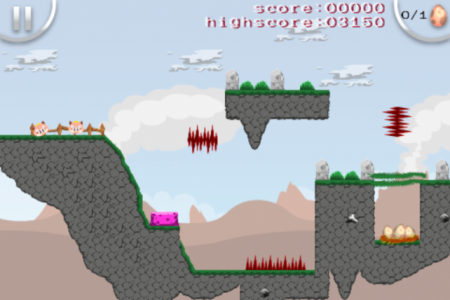 The look of The Hungry Pigs isn't a real high definition, realistic looking type of game. It is more cartoony (which fits the theme), but I would have liked the colors to be a bit brighter. Overall, though, the game is fun to look at, and completely appropriate for the kiddos to watch or play along (although the difficulty levels spikes pretty high, so it's likely only playable for your older kids).
Final Thoughts:
The Hungry Pigs is an engaging physics based game that really gets you thinking. The levels are challenging in a way that makes you determined to beat them, and the characters are cartoony and fun to watch. All that plotting strategies and determining proper angles makes this an ideal game for parents looking to sneak a little education into game time, and for adults who like their gaming with a side of physics.