Nintendo dominates Japan's software and hardware sales charts. Vita sales sip slightly to just above 10K.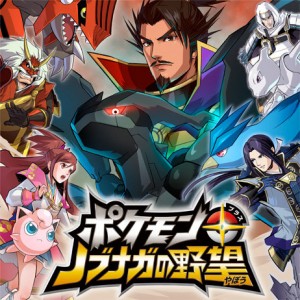 Media Create's Japanese sales report for the week ending on March 18th has revealed that the Pokemon Company / Tecmo Koei crossover DS title, Pokemon + Nobunaga's Ambition, topped the software charts with just over 172K in sales during its debut week. Two new PSP titles, Shining Blade (122K) and Madoka Magika Portable (62K), landed in second and third place respectively.
In terms of overall software the Nintendo 3DS claimed the most spots on the chart with 7 3DS and 2DS titles in the top 20, followed by 6 PS3 titles, and 5 PSP titles.
On the hardware charts the 3DS continued its reign at the top of the pile with 64K units sold, down slightly from 68.9K in the prior week. The PS3 landed in second with 27.9K units sold, followed by the PSP with 18.6K, and finally the Vita with just above 10K units sold.
The full Japanese hardware and software sales charts for the week ending March 18, 2012 are as follows:
Hardware (prior week in parentheses)
1. 3DS: 64,017 (68,951)
2. PS3: 27,900 (34,816)
3. PSP: 18,633 (16,176)
4. PSV: 10,021 (10,041)
5. Wii: 8,127 (8,322)
6. PS2: 1,165 (1,363)
7. X360: 1,145 (1,290)
8. DSi LL: 853 (850)
9. DSi: 617 (502)
Software
01. Pokemon + Nobunaga's Ambition(Pokemon Co., 12.03.17): 172,027 (NEW) [NDS] 02. Shining Blade (Sega, 12.03.15): 122,257 (NEW) [PSP] 03. Madoka Magika Portable (Namco Bandai, 12.03.15): 62,408 (NEW) [PSP] 04. One Piece Pirate Musou (Namco Bandai, 12.03.01): 34,600 (780,508) [PS3] 05. Tokimeki Memorial Girl's Side Premium 3rd Story (Konami, 12.03.15): 27,717 (NEW) [PSP] 06. Hatsune Miku and Future Stars Project Mirai (Sega, 12.03.01): 18,341 (105,017) [3DS] 07. If I Were in a Sealed Room with a Girl I'd Probably XXX (D3, 12.03.15): 18,291 (NEW) [3DS] 08. Mario Kart 7 (Nintendo, 11.12.01): 17,064 (1,581,089) [3DS] 09. Monster Hunter 3G (Capcom, 11.12.10): 16,924 (1,314,720) [3DS] 10. Mario & Sonic at London Olympics (Nintendo, 12.03.01): 16,183 (82,924) [NDS] 11. Super Mario 3D Land (Nintendo, 11.11.03): 15,801 (1,419,455) [3DS] 12. Harvest Moon Hajimari no Daichi (Marvelous AQL, 12.02.23): 12,331 (137,217) [3DS] 13. Street Fighter x Tekken (Capcom, 12.03.01): 11,611 (70,082) [PS3] 14. Winning Post 7 2012 (Tecmo Koei, 12.03.15): 11,524 (NEW) [PS3] 15. Amnesia Later (Idea Factory, 12.03.15): 10,936 (NEW) [PSP] 16. Legasista (Nippon Ichi, 12.03.15): 9,820 (NEW) [PS3] 17. Metal Gear Solid Snake Eater 3D (Konami, 12.03.01): 9,027 (47,401) [3DS] 18. Gundam UC (Namco Bandai, 12.03.01): 8,871 (60,540) [PS3] 19. Winning Post 7 2012 (Tecmo Koei, 12.03.15): 8,455 (NEW) [PSP] 20. Mass Effect 3 (Electronic Arts, 12.03.15): 8,142 (NEW) [PS3]
Source: Andriasang