Your fix-it-up time management action just stepped into the way back machine.

G5 Games brings you another installment in their popular time management series with Fix-It-Up '80s: Meet Kate's Parents. The story begins as Kate goes to visit her father and asks to hear the story of his career. As each part of the story is revealed, you play that part in the hectic style of time management games. Frank and Mary begin as most of us do, working for a demanding boss for very little pay. The job is a stressful one, but friends and a love for the work keeps them going when times get rough. As the game progresses, Frank and Mary work their way up the fix-it shop ladder, working in various locations and adding new skills along the way. As they gain experience and cash, their dream of one day having a shop of their own gets closer and closer to their reach.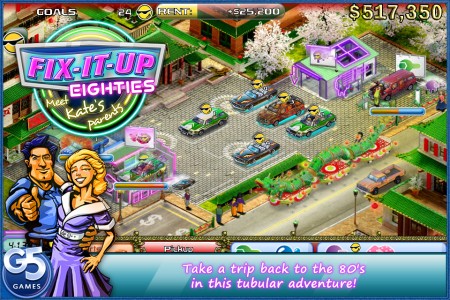 As you might suspect from the title, Fix-It-Up '80s: Meet Kate's Parents has a car shop theme to it. You wash and was cars and put them out for rental at first, but you slowly gain more abilities. Soon you are building more rental slots, buying cars and fixing them up, and even modding them. You'll see everything from trippy paint jobs to pimped up big rigs in this game, and you'll need to keep them all clean and in good repair. You also need to keep track of spare parts (needed to perform tasks), haggle for the best price with customers, and even upgrade buildings as needed. There are also several '80s icons making cameos (A-Team anyone?), and they'll need special attention in addition to your other tasks.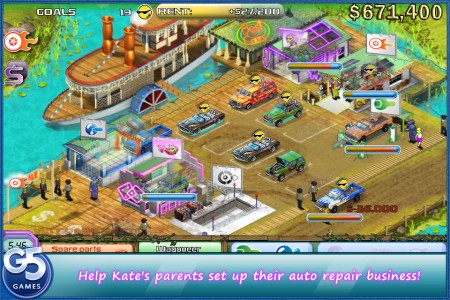 While each level has its frenzied share of buying, selling, and upgrading cars, you'll also be given various goals. These must be completed in order to finish the level, and they don't all appear at once. These often involve things like reaching a certain number of spare parts or employees, or even a set amount of cash or rental fees. But the goals also tie in with the storyline of Fix-It-Up '80s: Meet Kate's Parents. Throughout the game, you decide to earn extra cash in various ways, and you are given a certain number of police cars waxed, ice cream trucks painted, taxis modded, etc., to reach your goals. You also take on special projects at times, and these will also play into your goals. For instance, when you are given the task of upgrading a yacht or creating a parade float, they must be upgraded multiple times, and you must reach a specified number of employees and cash for each upgrade. At the same time, you'll need to keep enough cash on hand to buy and upgrade cars, or you'll soon run out of money.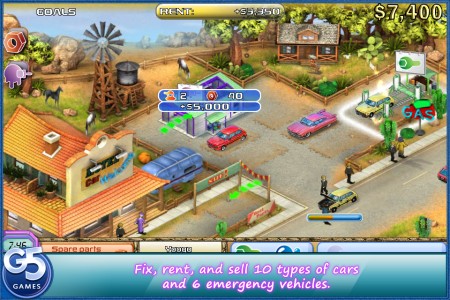 The action in Fix-It-Up '80s: Meet Kate's Parents is very fast-paced, with every level adding more jobs to your plate. While you aren't strictly timed in the sense of failing the level if you don't finish quickly, your speed in performance does have an affect on the game. If you don't click on customers or sellers fast enough, they'll walk away from the sale, and cars that aren't washed promptly won't collect rental fees. If you finish your goals in enough time to meet a gold or silver level, you will be rewarded with coins that can be used to upgrade your diner in whatever fashion you like. The coins can be used to buy things like a coffee machine, television, or even a juke box, and you can change the design them as well. While the diner doesn't really affect the game, it is a fun little addition to your play.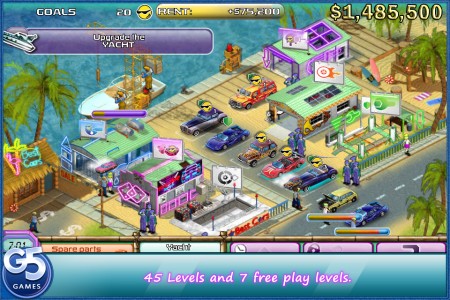 Final Thoughts:
Fix-It-Up '80s: Meet Kate's Parents is colorful and engaging game that treats you to fast paced action and frantic fun as you buy, sell, upgrade, and more, all in a fun '80s theme. The music is rather forgettable, but the visuals are clear and vibrant, and you can even easily distinguish between different types of cars. Car fans will appreciate the many opportunities to pimp nearly every kind of ride, and time management fans will enjoy taking their favorite game in a different direction. The running storyline adds a bit of continuity to the series, and ties all the levels together with a neat little bow.