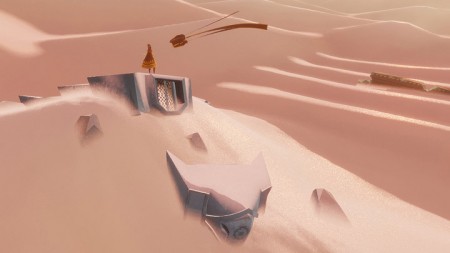 thatgamecompany's Journey will officially release today on the PlayStation Store, after launching last week for PlayStation Plus members.
The video game has been overwhelming well received by critics, and rightly so. Journey is beyond amazing and I highly recommend it to anyone with access to a PS3 and an Internet connection.
The launch trailer, as well as the latest developer diary are embedded below. Additionally, after you have finished up your initial playthrough tonight you can click here to read my analysis of the game's deeper meaning. Warning, that link is filled with spoilers so make sure to click over after that first playthough, which should only take you about 2 hours the first time.
Personally I've been looking forward to the launch of Journey today, even though I've been playing the game for a week now. I've played with both veterans and first timers online, and while both experiences are fun in their own way it is much more rewarding to play with someone who has not played the game. Watching them explore the world for the first time is a unique experience and I'm excited to see all the new players flood online over the next few days.
Source: PlayStation Blog