Play.com has allegedly listed several previously-unannounced titles for the Vita, including a GTA game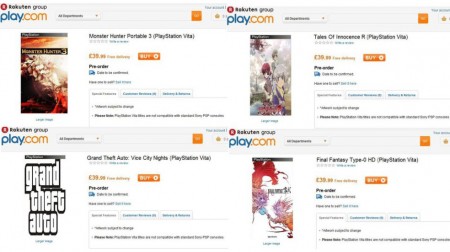 *Update* All images of the listings are in fact fakes, with the exception of Monster Hunter 3, which still remains to be confirmed.
Play.com, a UK entertaiment retailer, has a long history of selling games. Normally they have place holders for games where release date and box art isn't available. Today they allegedly listed Grand Theft Auto: Vice City Nights, Final Fantasy Type-0 HD, Monster Hunter 3 and Tales of Innocence R. Sony has been teasing new titles for a while and with the 'launch window' nearing its end the timing makes these leaks seem legitimate. Sony was planning on telling the public about games on Friday, and the listings appear to have been taken down except for Monster Hunter 3.
When the Vita launched in Japan the 3DS had a Monster Hunter game come out the same week. Many analyst and pundits thought that this clash caused a lot of people to avoid the Vita, which lead to the low sales. If a Monster Hunter game ends up on the Vita it could spark a resurgence in the Land of the Rising Sun. Grand Theft Auto games traditionally sell very well, even the small-scale PSP games sold like gang-busters, so Vice City Nights could be the catalyst that encourages the West to go out and purchase Sony's shiny handheld device of infinite amusement.
Source: gtaforums.com