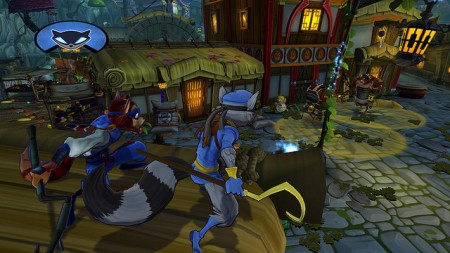 Sony has finally nailed down the release window for Sly Cooper: Thieves in Time from "the future" to "this Fall". While that's still not nearly as precise a plan as Bentley would like, at least it's a step in the right direction.
Sanzaru Games has also revealed a few new details about the game and provided a nice little developer walkthough, which you can check out in the video embedded below.
Thieves in Time will continue the open world setting from Sly 2 and 3 and will also have players take control of Sly's ancestors, who each have their own skill set. For example, at one point players will play as Rioichi, a ninja ancestor of Sly, that can use the Leaping Dragon ability to pass through laser fences. Sly will also have the ability to wear costumes that give him new abilities, like The Archer costume that allows him to shoot an arrow-tipped tightrope to gain access to new areas.
No word yet on if we will be forced to take control of Bentley or "The Murry". Personally I'm going keep positive and hope that we won't.
Source: PlayStation Blog