It's pinball on steroids.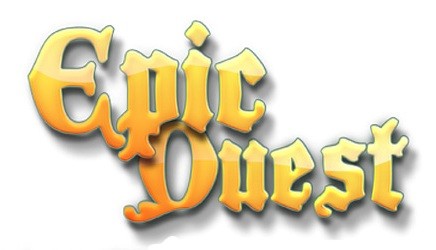 Zen Studios seeks to bring pinball to whole new dimension with their newest Zen Pinball table, Epic Quest. From a traditional pinball standpoint, Epic Quest is a great table. Artistically, there are bright colors, cartoony cool illustrations, and just so much to look at.  You play the table as Sir Max, a campy knight with features that resemble a caricature of the ideal knight. From his exaggerated features, to his ridiculous stick horse, to his often amusing movements during play, Sir Max sets the stage for a table that is fun and entertaining.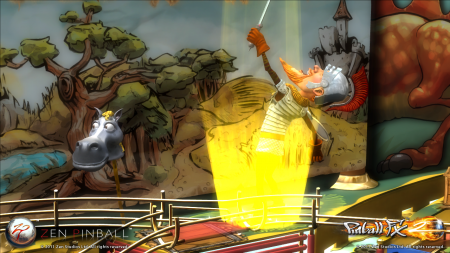 But how does it play? Again, from a traditional pinball standpoint, the Epic Quest table has a lot to offer. There are hidden dungeons and forests, and platforms and slides everywhere. Hitting certain spots on the table will give you the opportunity to battle monsters, which will require you to hit sword and shield lanes in an epic battle for loot. There can be bats in the forest, loot in the dungeon, a screaming princess awaiting your heroic rescue, and so much more. There is even an entertaining little puppet play before a good monster battle that helps keep up the fun vibe, all while Sir Max yells his encouragement from the sidelines.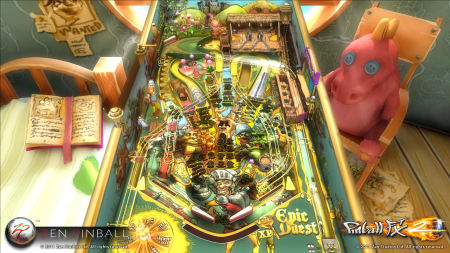 So, from a traditional pinball standpoint, Epic Quest is a great table. But Zen Studios didn't go traditional on this one. What you have with Epic Quest is a traditional pinball table with all the fixings…..that adds in the basic elements of an rpg. It seems like an odd combination at first, but it really fits well into the play of the table. As I said, you play as Sir Max, and like any respectable rpg, you'll want to level him up to perform better in the game. There is a red status bar under the flippers on the table that shows Max's current leveling up progress. As you level up, you change rank, beginning with Minor Knight and working toward the ultimate goal of Epic Hero. As you play the table, you complete quests and hit elusive goals to gather the XP that will level up your character. You also search for loot, battle monsters, rescue a princess, and equip better weapons and armor. Everything you love in a great rpg.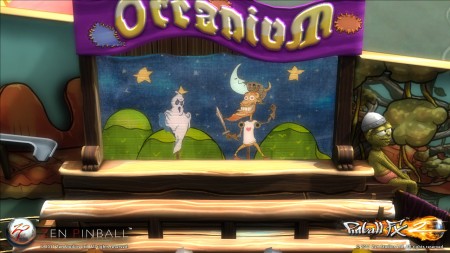 Of course, doing well in a good rpg takes time – generally a lot of time. Between grinding for XP, trying to hit up side quests, and searching for loot, you can put in many hours into a good rpg. So how does that translate to pinball, where the score is rest after just three balls? Here is where Zen Studios has really hit the sweet spot between satisfying old school pinball fans and wowing those who want a little bit more. Epic Quest does rest your score after three balls, just like any other pinball table. And those not interested int he rpg aspect just pinball to their hearts content, searching for that elusive high score and ignoring the rest. But for fans of the rpg side, Epic Quest saves all your progress. Your leveling up, your rank, your weapons and armor, will all be there each and every time you start the table. You'll start over in score, but nothing else. This is important for the rpg aspect, as your level has an effect on everything the loot you collect to the monsters you battle. The best of both worlds!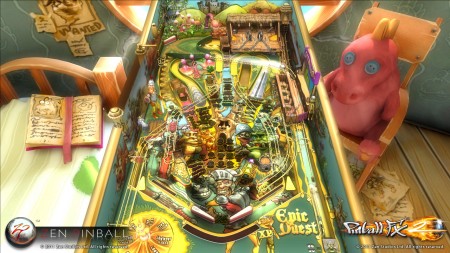 Final Thoughts:
Epic Quest is a great pinball table. It has all the elements a pinball fans looks for: hidden areas, imaginative artwork, and many chances to earn more points than your friends. But with the addition of rpg elements, Zen Studios takes this table so much farther. Even the occasional pinball players who may quickly get bored with playing a table with keep coming back to this one, as there is just so much more there. The quests, the monsters, the leveling up, the loot – it's all so much fun, and it keeps you coming back to earn just a little bit more. The idea of resetting the score while saving your progress strikes an excellent balance between keeping high score seekers happy and giving the rpg fans a little bit more to work for. And at just $2.49 (240 MSP for the Xbox360 version) for the table, you just really can't go wrong with Epic Quest.