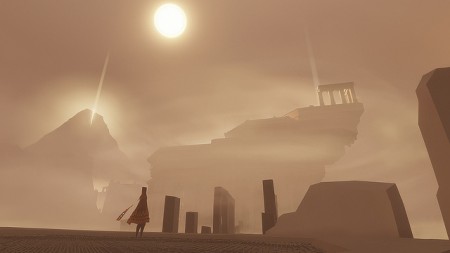 After having wrapped up development on the game earlier this month, thatgamecompany has just announced that their latest game Journey will be release to the PlayStation Store on March 13, 2012 for $14.99. The release date coincides with the PlayStation Store's Spring Fever event, but it was not specifically stated if Journey would be included in the sales.
For those not familiar with Journey, the game starts with players waking up alone in the middle of a sprawling desert with no idea where they are or what they are supposed to do. As the player starts to study their surroundings they notice a huge mountaintop in the background and getting to that destination becomes their ultimate goal. Along the way they discover who they are and what their purpose is, as they explore the world alone or with strangers they meet along the way.
Journey looks to be a very unique experience and is something to keep an eye on as March roles around. You can read more about Journey in Brutal Gamer's hands-on preview here.
Source: PlayStation Blog