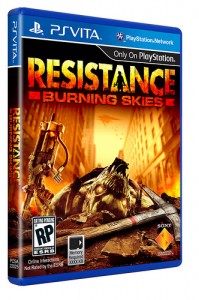 Insomniac might be out of the Chimera killing business, but that doesn't at all mean you have played your last Resistance title. In fact, Sony has announced that Vita owners will be the first gamers to play a portable dual-analog FPS when Resistance: Burning Skies launches this May for the PlayStation Vita.
Burning Skies takes place during the August 1951 Chimeran invasion of the East Coast and has you play as a New Jersey firefighter named Tom Riley, who finds himself suddenly thrown "into the teeth of the Chimeran war machine".
Look for Resistance: Burning Skies at North American retailers when it launches for the PlayStation Vita on May 29, 2012.
Source: PlayStation Blog