Even the most hardcore gamer gets a little burnt out once in a while. When you need a break from the button-mashing, a little page turning can be the perfect thing to cleanse the palette.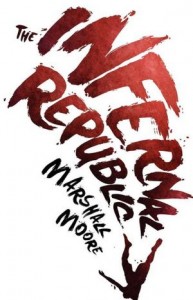 What do a super hero, a demon, and a guidance counselor have in common? Marshall Moore.  In his collection of short stories, The Infernal Republic, Moore seeks to take his readers on a journey into the future, the cosmos, and into the dark corners of the human mind. The stories are presented in easily digestible tidbits that make it easy to just pick up and read when you only have a few minutes here and there, or sit down for a couple hours and absorb the whole thing when you need a mental vacation. While it is tough to pin the stories in The Infernal Republic into a single genre, most have a sci-fi/horror type of vibe to them, and should resonate well with fans of those types of video games.
You get a hint at Moore's style as you begin the book reading a macabre tale of two new friends callously discussing the plight of a nearby man bent on committing suicide before their very eyes. "Ah, so it's one of those books that make you wonder about the sinister thoughts behind calm eyes" you think, but as you work your way into more and more stories that range from the fantastical to the heartbreaking, you begin to realize that The Infernal Republic doesn't fit easily into any mold. It sort of gave me the sense of following a restless mind, wandering from one topic to the next, but never settling on one for long.
The Infernal Republic is a book that will appeal to many, with its thought-provoking stories and eccentric characters, but it is definitely not for the easily offended. From graphic sex to graphic violence, Marshall Moore doesn't shy away from the grittier sides of his stories. This offers a bit of shock value to some of his stories, but in a believable way that helps you really get into the workings of his characters' minds, and of Moore's himself. In fact, my biggest criticism of The Infernal Republic is, at its core, a compliment. Each story left me feeling like I needed to know more – what happened to the suicidal bio-engineered teen, how did the heartbroken guidance counselor fare on his own, did the monkeys ever eke out Shakespeare? Moore's characters do you make you care about what happened after the story, and that is a testament to Moore's skill at making the reader sympathetic to even the most unbelievable of characters.
All of us lead busy lives; it's a busy world, and even carving out a few minutes here and there for some downtime can seem like an unattainable dream. Maybe you can't read War & Peace right now, but you can turn your commute into an oasis with some short stories that will help you get away from it all, five minutes at a time.