PlayStation Vita outsells the PSP for the first time since the new handheld's launch weekend.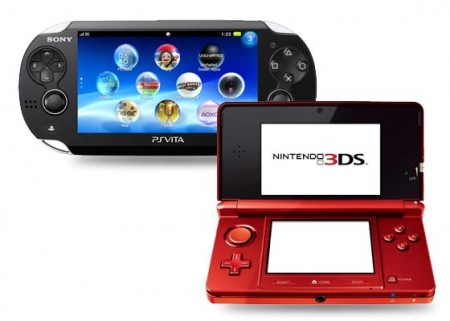 Japanese sales for the week ending on January 29, 2012, as reported by Media Create, show a small bump in sales from the prior week for all current generation systems (except for the Xbox 360), which resulted in the PlayStation Vita surpassing the PSP in weekly sales for the first time since the handheld's launch weekend on December 17, 2011.
For the week, the 3DS was once again Japan's top selling system with 84.7K units sold, up from 80.9K in the prior week. The PlayStation 3 landed at #2 with 22.9K in sales (up from 21.1K), followed by the Vita with 18.9K (up from 15.2K), the PSP at 16K, and the Wii with 10.3K units sold.
On the software charts the 3DS claimed 7 of the top 20 positions on the chart. The Wii held onto 5 spots, followed by the PS3 with 4, the PSP with 2, and finally the Xbox 360 and Vita with 1 each.
Topping the software charts was a trio of new releases; Armored Core V for the PS3 (163K copies sold), Resident Evil: Revelations for the 3DS (146K), and Tales of Innocence R for the Vita (54K).
The full Japanese hardware and software sales charts for the week ending January 29, 2012 are as follows:
Hardware
|System | This Week  | Last Week  | Last Year  |     YTD    |  Last YTD  |     LTD     |
----------------------------------------------------------------------------------------
|  3DS  |     84.789 |     80.960 |            |    507.236 |            |   4.789.379 |
|  PS3  |     22.924 |     21.155 |     25.149 |    148.870 |    141.743 |   7.785.255 |
|  PSV  |     18.942 |     15.219 |            |     95.437 |            |     535.423 |
|  PSP  |     16.008 |     17.181 |     34.928 |    126.760 |    134.617 |  18.856.144 |
|  Wii  |     10.396 |     10.173 |     19.448 |     84.273 |    111.833 |  12.247.494 |
|  NDS  |      1.918 |      2.022 |     22.561 |     14.197 |    164.741 |  32.822.683 |
|  360  |      1.235 |      1.588 |      3.513 |      7.080 |     12.346 |   1.543.125 |
|  PS2  |        713 |        903 |      1.938 |      3.705 |      7.950 |  21.777.812 |
Software
01./00. [PS3] Armored Core V (From Software) {2012.01.26} (¥7.800) – 163.906 / NEW
02./00. [3DS] Resident Evil: Revelations (Capcom) {2012.01.26} (¥5.990) – 146.559 / NEW
03./00. [PSV] Tales of Innocence R (Bandai Namco Games) {2012.01.26} (¥5.980) – 54.853 / NEW
04./01. [3DS] Mario Kart 7 (Nintendo) {2011.12.01} (¥4.800) – 29.230 / 1.433.958 (-17%)
05./03. [3DS] Monster Hunter 3G # (Capcom) {2011.12.10} (¥5.800) – 27.032 / 1.186.898 (-14%)
06./00. [360] Armored Core V (From Software) {2012.01.26} (¥7.800) – 24.719 / NEW
07./04. [3DS] Super Mario 3D Land (Nintendo) {2011.11.03} (¥4.800) – 23.003 / 1.288.495 (-12%)
08./00. [PS3] The Idolmaster: Gravure For You! Vol. 4 (Bandai Namco Games) {2012.01.26} (¥9.980) – 18.179 / NEW
09./02. [3DS] Rhythm Thief & the Emperor's Treasure (Sega) {2012.01.19} (¥6.090) – 14.928 / 46.526 (-53%)
10./07. [3DS] Inazuma Eleven Go: Shine / Dark (Level 5) {2011.12.15} (¥5.800) – 10.479 / 370.804 (-26%)
11./00. [PSP] Mobile Suit Gundam: Mokuba no Kiseki (Bandai Namco Games) {2012.01.26} (¥6.280) – 9.121 / NEW
12./12. [WII] Just Dance Wii (Nintendo) {2011.10.13} (¥5.800) – 7.837 / 519.199 (-6%)
13./10. [PS3] Warriors Orochi 3 # (Koei Tecmo) {2011.12.22} (¥7.800) – 7.419 / 355.033 (-31%)
14./13. [PSP] Monster Hunter Freedom 3 (PSP the Best) (Capcom) {2011.09.22} (¥2.990) – 7.072 / 178.978 (-13%)
15./11. [PS3] Final Fantasy XIII-2 # (Square Enix) {2011.12.15} (¥7.980) – 6.405 / 769.079 (-26%)
16./14. [WII] Wii Party # (Nintendo) {2010.07.08} (¥4.800) – 6.280 / 2.279.598 (-12%)
17./15. [WII] Wii Sports Resort with Remote Plus # (Nintendo) {2010.11.11} (¥5.800) – 6.056 / 856.483 (-8%)
18./19. [3DS] Nintendogs + Cats: French Bulldog / Shiba / Toy Poodle & New Friends (Nintendo) {2011.02.26} (¥4.800) – 5.397 / 487.201 (-9%)
19./17. [WII] Mario Kart Wii (Nintendo) {2008.04.10} (¥5.800) – 5.326 / 3.495.100 (-13%)
20./16. [WII] Kirby's Return to Dream Land (Nintendo) {2011.10.27} (¥5.800) – 4.873 / 590.133 (-21%)
Source: NeoGAF