Alan Wake has shined his trusty flashlight forward, and he's coming to the PC.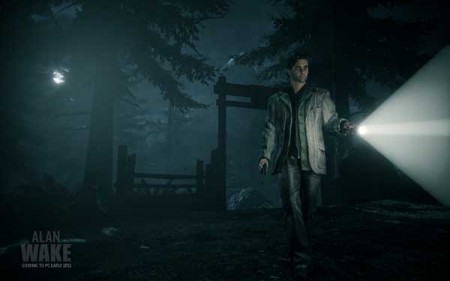 After slogging through numerous problems (a cancellation and a petition to bring it back) and many years (development, I assume), the prolific writer/hero of the world is now arriving to fight the good fight on the PC this February. Developer Remedy posted an FAQ on their forums, revealing the release date, along with system requirements and other juicy information. Support has been officially confirmed for Windows XP, and Steam is the only platform that is being supported for release. Steamworks will also be included, so players can access their saves and data from anywhere. Both of the DLC from the Xbox360 version will be included in the PC version, although oddly enough there will not be any mod tools released. Mac users will have to keep searching through the darkness, as Remedy has said there will not be a Mac version.
This is fantastic news for PC gamers, as they can now experience the brilliant narrative about a brilliant writer. That's so meta. And it's more than a port, the tone of the FAQ suggests that while it borrows from the Xbox360 version, it's being developed with the PC infrastructures in mind. Steamworks means being able to play it anywhere and use the same save. It's awesome that Remedy is working so diligently with Steam to create such a great experience with such a great game.
Now we just need Alan Wake 2.
Source: Destructiod