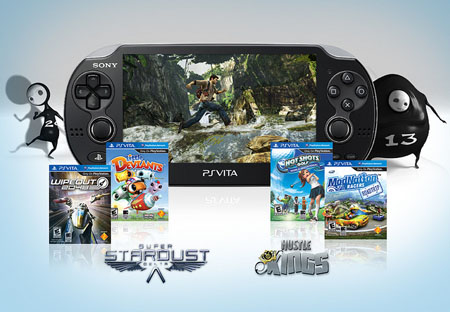 An update on the PlayStation Blog today has revealed the full software and accessory launch lineup for the PlayStation Vita when it hits the U.S. on February 22nd. While the cost of the system has been know for quite some time, this is the first official word on what we can expect to be out of pocket for the next generation of Sony handheld gaming.
In total there wil be 25 first and third-party games available on launch day, and another 10 that will come out during the "launch window". Not all of these titles appear to be headed to release at retail, with several of the games marked as "PSN only". Pricing for each specific game was not revealed but Sony said that "all software will range from $9.99-$49.99 (MSRP)". We here at Brutal Gamer are speculating that you can go ahead and plan on dropping a cool $50 if you want to get your hands on Uncharted: Golden Abyss.
One bit of good news on the accessory front is that the official prices for the "optional" memory cards, while still extremely overpriced, are lower than the prices GameStop posted last month. Memory cards start at $19.99 for the 4GB card, up to $99.99 for 32GB. There will also be an option to pick up a Starter Kit that includes a 4GB memory card, Pocket Pouch, Protective film, Card Case, Headphones, and a Cleaning Cloth for $39.99.
Check down below for the full list of software and accessories.
Software Lineup
SCEA Launch Day Titles
Escape Plan (PSN Only)
Hot Shots Golf: World Invitational
Hustle Kings (PSN Only)
Little Deviants
ModNation Racers: Road Trip
Super StarDust Delta (PSN only)
UNCHARTED: Golden Abyss
wipEout 2048
Launch Window Titles
Gravity Rush
MLB 12 The Show
Reality Fighters
Unit 13
Third Party Publisher Launch Day Titles
Army Corps of Hell Square Enix, Inc.
Asphalt Injection Ubisoft, Inc.
BEN10 GALACTIC RACING D3 Publisher of America
Blazblue: Continuum Shift EXTEND Aksys Games Localization, Inc.
Dungeon Hunter Alliance Ubisoft, Inc.
Dynasty Warriors Next Tecmo Koei America Corporation
F1 2011 Codemasters
EA SPORTS FIFA Soccer Electronic Arts, Inc.
Lumines Electronic Symphony Ubisoft, Inc.
Michael Jackson The Experience Ubisoft, Inc.
Plants vs. Zombies (PSN Only) Sony Online Entertainment LLC
Rayman Origins Ubisoft, Inc.
Shinobido 2: Revenge of Zen Namco Bandai Games America Inc.
Tales of Space: Mutant Blobs (PSN Only) Drinkbox Studios
Touch My Katamari Namco Bandai Games America Inc.
Ultimate Marvel vs Capcom 3 Capcom Entertainment, Inc.
Virtua Tennis 4: World Tour Edition Sega of America
Launch Window Titles
LEGO Harry Potter: Years 5-7 Warner Bros. Interactive Ent. Inc.
Disgaea 3: Absence of Detention NIS America, Inc.
NINJA GAIDEN ∑ PLUS Tecmo Koei America Corporation
Ridge Racer Namco Bandai Games America Inc.
Silent Hill Book of Memories Konami Digital Ent. America, Inc.
Supremacy MMA: Unrestricted 505 Games
Accessories
4 GB Memory Card February 15, 2012 $19.99
8 GB Memory Card February 15, 2012 $29.99
16 GB Memory Card February 15, 2012 $59.99
32 GB Memory Card February 15, 2012 $99.99
Starter Kit with Memory Card February 15, 2012 $39.99
In-Ear Headset February 15, 2012 $19.99
Carrying Case February 15, 2012 $19.99
Travel Pouch February 15, 2012 $19.99
Protective Film (2 pack) February 15, 2012 $9.99
Card Case February 15, 2012 $5.99
Cradle February 15, 2012 $19.99
Portable Charger Spring 2012 $49.99
AC Adaptor February 15, 2012 $14.99
Car Adaptor Spring 2012 $14.99
USB Cable February 15, 2012 $14.99
Source: PlayStation Blog