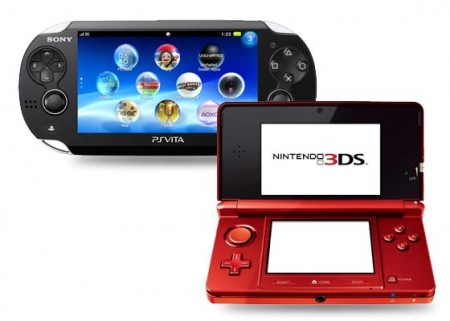 Japanese sales numbers are in for the week ending December 18th and the Nintendo 3DS managed to hold onto the top hardware spot with 367K in sales compared to 324K for the newly launched PlayStation Vita. However because last week's sales only take into account two days of Vita sales the real battle will take place this week with both systems on retail shelves for a full seven days.
In terms of software both the Vita and the 3DS had four titles in the top 20. The edge, however,  goes to the 3DS which claimed the number 2, 3, 4, and 5 spots on the chart with; Monster Hunter 3G (208K), Mario kart 7 (182K), Inazuma Eleven Go (135K), and Super Mario 3D Land (112K). Currently the race to be the first million selling 3DS title in Japan comes down to Super Mario 3D Land (837K), Mario Kart 7 (789K), and Monster Hunter 3G (730K).
Final Fantasy XIII-2 for the PS3 took the top spot on the chart with 524K in sales for the week. The top selling Vita software was Hot Shots Golf at number 7, followed by Uncharted: Golden Abyss at number 8.
The full Japanese hardware and software sales charts for the week ending December 18, 2011 are as follows:
Hardware (This Week | Last Week)
3DS  |    367.691 |    350.321 (3.601.990 LTD)
PSV  |    324.859 |
PS3  |     65.119 |     44.661
PSP  |     64.468 |     51.191
Wii   |     60.916 |     46.018
NDS  |      9.155 |      6.630
360  |      3.584 |      3.211
PS2  |      1.400 |      1.268
Software
01./00. [PS3] Final Fantasy XIII-2 # (Square Enix) {2011.12.15} (¥7.980) – 524.217 / NEW
02./01. [3DS] Monster Hunter 3G # (Capcom) {2011.12.10} (¥5.800) – 208.427 / 730.386 (-60%)
03./02. [3DS] Mario Kart 7 (Nintendo) {2011.12.01} (¥4.800) – 182.418 / 789.871 (-1%)
04./00. [3DS] Inazuma Eleven Go: Shine / Dark (Level 5) {2011.12.15} (¥5.800) – 135.259 / NEW
05./03. [3DS] Super Mario 3D Land (Nintendo) {2011.11.03} (¥4.800) – 112.533 / 837.143 (+25%)
06./08. [WII] Kirby's Return to Dream Land (Nintendo) {2011.10.27} (¥5.800) – 71.028 / 398.516 (+59%)
07./00. [PSV] Hot Shots Golf: World Invitational (Sony Computer Entertainment) {2011.12.17} (¥4.980) – 61.412 / NEW
08./00. [PSV] Uncharted: Golden Abyss (Sony Computer Entertainment) {2011.12.17} (¥5.980) – 48.224 / NEW
09./10. [WII] Just Dance Wii (Nintendo) {2011.10.13} (¥5.800) – 44.021 / 323.293 (+42%)
10./12. [WII] PokePark 2: Beyond the World (Pokemon Co.) {2011.11.12} (¥5.800) – 43.829 / 164.018 (+44%)
11./11. [WII] Wii Party (Nintendo) {2010.07.08} (¥4.800) – 42.632 / 2.129.236 (+38%)
12./06. [NDS] Magician's Quest: Oshare na Mahou Tsukai (Konami) {2011.12.10} (¥4.980) – 35.068 / 81.110 (-24%)
13./13. [WII] Mario & Sonic at the London 2012 Olympic Games (Nintendo) {2011.12.08} (¥5.800) – 34.351 / 64.573 (+14%)
14./00. [PS3] Shin Kamaitachi no Yoru: 11 Hitome no Suspect (Chunsoft) {2011.12.17} (¥6.090) – 33.686 / NEW
15./00. [PS3] BlazBlue: Continuum Shift Extend (Arc System Works) {2011.12.17} (¥5.980) – 32.992 / NEW
16./16. [WII] Wii Sports Resort with Remote Plus (Nintendo) {2010.11.11} (¥5.800) – 30.804 / 734.046 (+33%)
17./17. [WII] Taiko Drum Master Wii: Definitive Edition # (Bandai Namco Games) {2011.11.23} (¥5.040) – 30.046 / 100.284 (+40%)
18./00. [PSV] Dynasty Warriors Next (Koei Tecmo) {2011.12.17} (¥6.090) – 29.181 / NEW
19./00. [PSV] Lord of Apocalypse (Square Enix) {2011.12.17} (¥5.980) – 28.742 / NEW
20./19. [NDS] One Piece: Gigant Battle 2 – New World # (Bandai Namco Games) {2011.11.17} (¥5.230) – 28.406 / 207.458 (+52%)
Source: NeoGAF