Nintendo dominates last week's Japanese software and hardware sales charts.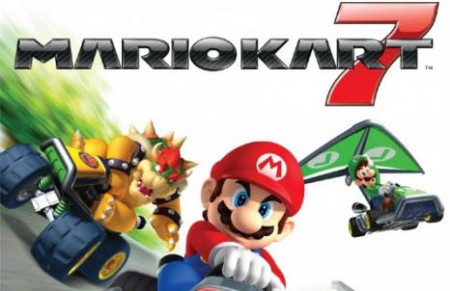 Mario Kart 7 launched in Japan last in a big way. The title sold 423,619 units making it the fastest-selling 3DS game in Japan, and placing it at the top of the top 20 software sales charts for the week ending on December 4th. In total Nintendo claimed 13 of the top 20 spots with 9 Wii games, 2 3DS (the other title being Super Mario 3D Land in the #3 spot), and 2 DS games. Sony held the other 7 positions (4 PS3 games and 3 PSP games), with Mobile Suit Gundam Extreme Vs for the PS3 debuting at #2 on the chart with 349,756 in sales.
The strong debut of Mario Kart 7 pushed up Nintendo's 3DS sales for the week from 120K in the prior week to 205,962. This puts life-to-date 3DS sales in Japan at 2.88 million units, making it a very real possibility that the handheld will hit 3 million units before the PlayStation Vita launches in Japan on December 17th. Coming in second for the week in hardware was the PS3 (40K) followed by the PSP (39K) and Wii (31K).
The full Japanese hardware and software sales charts for the week ending December 04, 2011 are as follows:
Hardware (This Week | Last Week)
3DS  |    205.962 |    120.920
PS3  |     40.668 |     34.031
PSP  |     39.547 |     33.151
Wii  |     31.071 |     20.148
NDS  |      4.436 |      3.265
360  |      1.660 |      1.678
PS2  |      1.500 |      1.294
Software
01./00. [3DS] Mario Kart 7 (Nintendo) {2011.12.01} (¥4.800) – 423.619 / NEW
02./00. [PS3] Mobile Suit Gundam Extreme Vs. (Bandai Namco Games) {2011.12.01} (¥8.380) – 349.756 / NEW
03./04. [3DS] Super Mario 3D Land (Nintendo) {2011.11.03} (¥4.800) – 73.907 / 634.868 (+20%)
04./00. [PS3] Assassin's Creed: Revelations (Ubisoft) {2011.12.01} (¥7.770) – 39.947 / NEW
05./01. [WII] The Legend of Zelda: Skyward Sword # (Nintendo) {2011.11.23} (¥6.800) – 32.191 / 227.169 (-83%)
06./00. [WII] Itadaki Street Wii (Square Enix) {2011.12.01} (¥6.090) – 27.640 / NEW
07./14. [WII] Kirby's Return to Dream Land (Nintendo) {2011.10.27} (¥5.800) – 27.352 / 282.917 (+40%)
08./00. [NDS] Power Pro Kun Pocket 14 (Konami) {2011.12.01} (¥5.250) – 24.512 / NEW
09./00. [PSP] Kamen Rider: Climax Heroes Fourze (Bandai Namco Games) {2011.12.01} (¥6.280) – 23.327 / NEW
10./00. [PS3] The King of Fighters XIII (SNK Playmore) {2011.12.01} (¥7.140) – 21.525 / NEW
11./00. [WII] Kamen Rider: Climax Heroes Fourze (Bandai Namco Games) {2011.12.01} (¥6.280) – 21.379 / NEW
12./17. [WII] PokePark 2: Beyond the World (Pokemon Co.) {2011.11.12} (¥5.800) – 19.937 / 89.678 (+36%)
13./19. [WII] Wii Party (Nintendo) {2010.07.08} (¥4.800) – 19.155 / 2.055.777 (+39%)
14./18. [WII] Just Dance Wii (Nintendo) {2011.10.13} (¥5.800) – 18.070 / 248.338 (+29%)
15./02. [PSP] 7th Dragon 2020 # (Sega) {2011.11.23} (¥6.279) – 17.175 / 139.673 (-86%)
16./11. [NDS] One Piece: Gigant Battle 2 – New World # (Bandai Namco Games) {2011.11.17} (¥5.230) – 16.915 / 160.356 (-38%)
17./00. [WII] Taiko Drum Master Wii: Definitive Edition # (Bandai Namco Games) {2011.11.23} (¥5.040) – 16.669 / 48.767
18./06. [PSP] Little Battlers eXperience: Boost (Level 5) {2011.11.23} (¥4.980) – 16.596 / 77.323 (-73%)
19./24. [WII] Wii Sports Resort with Remote Plus (Nintendo) {2010.11.11} (¥5.800) – 15.856 / 680.079
20./00. [PS3] Tekken Hybrid (Bandai Namco Games) {2011.12.01} (¥7.140) – 14.195 / NEW
Source: NeoGAF