The massive gathering of SNK's fighting game characters returns for yet another outing, but can the thirteenth entry in the series return it to brawling greatness?
King of Fighters has been around the block a few times- probably not too much of a stretch to say that. And it seems like the more little changes that creator SNK makes to the game, the more it stays the same. Maybe it's just that the series has been around for so long and it's just simply run out of ideas. Actually, when you take a look at the history of the fighting genre, it would be easy to say that there are a whole bunch of games that just keep pumping out sequels. Street Fighter and Mortal Kombat right there at the forefront.
But take a second and consider this: both of those series' are continually evolving. When they get too stale, the developers will try something new- maybe nothing too radical, but something. Both SF and MK just released brand new takes on their respective styles that won over not only fans (resulting in huge sales) but critics as well. SF4 added a brand new look with its sort of 2.5D aesthetic that has truly given the game a new flavor- and likewise with Mortal Kombat. That game solidly got back to it's roots while adding some minor new elements and saw resounding success.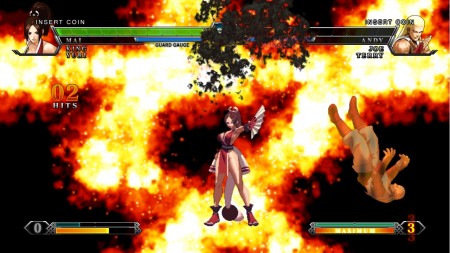 King of Fighters though… it really hasn't changed since it's debut. At all. Well, maybe that's a little harsh- some new things have come and gone like added team members and the ability to swap out characters during fights. There are new characters too… sometimes. Anyway, the last title released really did quite a bit to put a monster nail in the KoFfin. Despite being 100% hand drawn and looking pretty sharp overall, KoF XII was dull, uninspired, totally lacking in bells and whistles, and was a general disappointment for all but the die-hards.

Enter King of Fighters XIII. This… is more like it. It's still three on three team based fighting, but KoF XIII (unlike XII) is loaded with modes and things to do. There's a Mission Mode, a Story Mode (complete with cut scenes), an Arcade Mode, and even a Customization Mode where you can tailor the color of the characters clothing, hair, and skin. It's great that SNK took the time and listened to the fans who were clamoring for something more to do. Also present are new controls like the EX moves and Neo Max supers (which are amazingly hard to pull off) and 'in fight' tasks (like: 'Perform a Three Hit Combo') that can pump up your score and your gauges and generally allow you to kick just that much more ass.
The Story Mode, which was completely absent from XII, finishes off the plot that started years ago with KoF '03 (if you remember that one, I didn't) and does not allow you to cherry-pick fighters for your team. All the rosters are preset with characters from their respective games locked in at the start. In other words, you can't have Terry Bogard and Ryo Sakazaki on the same crew, which makes sense really since their group's storylines are going to be different. Arcade Mode, on the other hand, has no such issues. There you're free to experiment and build the perfect three person team to best fit your play style- a lot more fun in my opinion.
A little bit of an oddity are the text only conversations that start off each fight. It's pretty cool that the guys and gals have all their own greetings and taunts for each other, and I'm not complaining about that, but they're a little on the long side and break the action too much when you just want to get on with the match (though they can be pretty funny) Thankfully, they're skippable should you not be in the mood.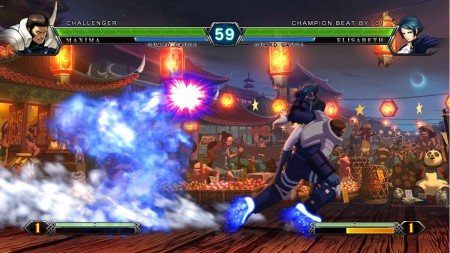 One other thing about KoF XIII? It's gorgeous. There are a few rough edges here and there, but overall the characters are beautifully drawn and animated- and so are the backgrounds. I was particularly blown away by the monster level of detail and color in the arenas themselves. You really can't help but recall the golden ages of the arcade and the over the top spectacle that fighting games used to be. The whole thing has a moving comic book style look to it- it's fantastic. On the other side of the coin, the sound design is only okay. But (and I'm really not making excuses here) honestly, who's playing KoF for the tunes? The long and short is that the effects are a little ho-hum and the music is loud and generic. It keeps you going and does a basic job; that's enough for a game like this.

Now the meat and potatoes- the control is excellent. Unlike many fighting game fans, I'm used to the pad since I played a ton more at home than I did at the arcades. So for my playthrough(s) I used the transforming D-Pad on the Xbox controller as my primary means of input. Everything was spot on and both standard and special attacks were easy as pie to pull off. The only sticking point were the super moves- although I'm pretty sure that's more due to lack of skill than mechanics. I had as hard a time with them as I did with Street Fighter II's Dragon Punch when I was a kid. Other than that relatively minor issue though, the control is 2D fighting perfection.
The online play is, unfortunately, still a little bit of a downer. I'm not a big online guy at all, but I can definitely tell you that it has a ways to go to catch up to the other big boys of the genre. It's not unplayable, but the versus modes over Xbox Live were nonetheless sluggish and occasionally (slightly) unresponsive. It didn't bother me much since again, I'm really not in this for the online versus, but it's not great for a fighting game and really needs to be addressed at some point.
Final Thoughts
If you are a King of Fighters fan, you should be playing this game. If you are a fighting game fan in any way, you should be playing this game. It does have it's issues (cheap bosses *cough*cough*) but it's an excellent re-debut for what is one of SNK's longest running franchises. I absolutely loved the graphics and really appreciate the hand-drawn look and old school feel mixed with some of the more modern staples of the team fighter.
The last KoF games that I truly enjoyed were the SNK vs Capcom titles from the late '90s (I think?), so I'm very happy to see the title starting to get back to the level of greatness that it used to produce. Fun and eminently playable- more like this please.
Check out the latest UK and US prices on Amazon!