Shinobi gets back to it's 2D roots with a 3D facelift.
Back in the early days of console gaming, I logged many an hour battling from left to right as the deadly ninja, Joe Musashi. I wasn't a big fan of the arcade game that started the franchise off, but nevertheless I ate up the console offerings like pumpkin pie.

As with most things, Joe overstayed his welcome and was relegated to the dreaded 'back burner' for a good long time- well, until 2003 rolled around that is. The Playstation 2 saw the release of it's first (and only) Shinobi game that year. A pretty cool third-person action title, it was surprisingly decent for a game that had little in the way of promotion and fanfare. After that, the Shinobi name promptly went back into Sega's hamper of time for another few years.
Now here in 2011, the 3DS plays stage to a true return to form for the series. Joe (and all the others that held the name) is not around for this one- instead we get to step into the shoes of Jiro Musashi. Jiro is actually Joe's dad and, as such, the first part of the game itself takes place in his home era. All the way back in feudal Japan.
With Jiro's home town comes under attack by a rival warrior clan, the Zeed, he does the only thing he knows how to- he starts booting as much ass as is humanly possible. As you make your way through the ancient past and take the fight to your enemy, you'll run through most of the controls and generally get the hang of things. It isn't too long before a mystical rift changes up the scenery a tad though, so don't get too used to the scenery. Feudal Japan may kick things off, but (like some other ninja games I could mention) the action moves on to the future where you'll battle not just ninja, but all manner of evil doers.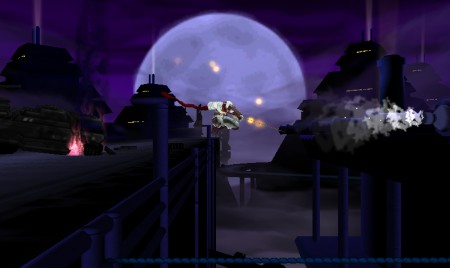 So the story is simple, a little goofy, and very straightforward- it actually reminds me a lot of the 16-bit era titles that Shinobi is based on. A few cut scenes (that are very pretty by the way) and that's it for narrative. Normally, I expect a lot more from today's games, but you have to keep in mind that this isn't meant to be all that in-depth. Developer Griptonite Games has crafted a very single minded, side-scrolling action title with Shinobi. And in that way, it succeeds.

Controls are fairly simple and (though I kept forgetting how to deploy my grapple line for some reason) I had a pretty easy time of hacking, slashing, wall climbing, and casting ninja magic. Series fans will be happy to learn that the double jump has triumphantly returned as well. How does a ninja jump on air anyway?
While that one may never be fully understood, what's not a mystery in any way are the graphics. If you've followed any of the previews we've run here at BG, you'll probably remember it was said that the look of the game is way better than what the screens and even video have shown. Playing through the colorful, beautifully designed stages is a joy, as Griptonite has managed to meld the old with the new in style. It definitely feels like Shinobi, but the graphics have a really nice artistic look to them. Very impressive stuff.
Shinobi also features a special Street Pass function that takes advantage of one of the Nintendo 3DS' unique features. In this mode, you can unlock Challenge Maps by meeting other players out on the town. Though if nobody you know happens to have a 3DS (like me) you can still play through these stages by spending 20 coins each on them. There are a few other neat little things to explore too- like the dojo, where you can practice your moves, and the Shinobi theater, where you can play back saved videos. Not exactly feature rich, but what did you expect?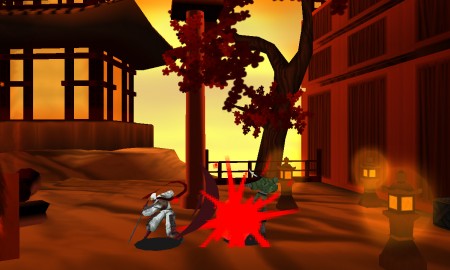 Final Thoughts
There's quite a bit of good to offset the so-so in Shinobi. Bottom line is that Griptonite knows 2D action very well and does an excellent job with the genre. As a result, there is a ton to like here. What's not to like? Well, there isn't a lot of variety in enemy types and, like all old school flavored games, their animations are all pattern based- so they won't surprise you all that much.
All you're really doing is fighting across screen after screen of (pretty difficult) enemies and obstacles as well, and it does get tired after a while. But what saves a game like Shinobi is that the rest of it is so good, you won't care if it's a little shallow around the edges. Other than a few minor quibbles, I had a great time getting the Neo-Zeed reaquainted with the business end of my blade.