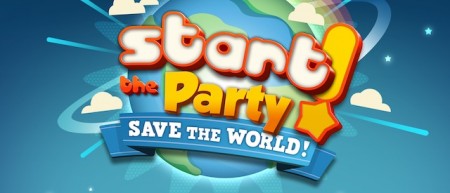 Oh Sony, Sony, Sony.  Why dear friends are you shoveling so much crap on to your Move controller.. it didn't work for the Wii!
It is with a heavy heart, and a bloody wore arm from all these motion games, that I popped Start the party: Save the World in to my PS3.  To be honest I enjoyed the original Start The Party title that6 shipped when the PS Move was new, but can this mini-game (*cringe*) collection cut it over a year later?This title, like the last sees you engage in multiple mini-games and takes a massive leaf from Warioware titles.  This is a good thing jsut in case you're not familiar with those titles.  The game has a very loose premise of Dr Terrible taking over the world and each mini-game is an attempt to thwart his latest scheme.  The "story" acts as a driver for the graphics and trappings of each level and is never really meant to be taken seriously.  in fact it's almost non-existent.There are 20 mini games in total to play through, each one last 60 seconds (so twenty minutes of play fact fans!),  They break down in to several groups of play though.  For example the shooter sections, the fishing road/hooking sections, repair sections, line drawing sections etc.  These offer a good variety and make sure you have a reasonable expectation on each level.On that point I must say that should you load up the game, select Solo play and then head for Survival mode you will be presented with a rapid series selection across all 20 games BUT have no idea what the hell you are doing as no instructions are given in this mode.  It can be a rude introduction on your first game.
So your options on loading up break down to Single player or Multiplayer.  The single player then breaks down to Free Play where you can work your way through each game on offer trying to achieve a better high score.  Or the previously mentioned survival mode where you flip back and forth between the game types on the fly and see how long you can survive the onslaught.  Even in single player mode a friend can take control of certain elements via a DualShock controller. for instance they can control the boat in fishing.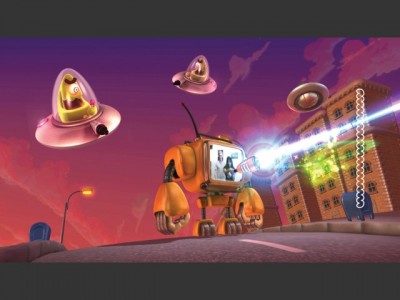 The mini-games are all pretty much engaging and are good fun for the most part.  My favourites were usually the building ones, but all worked reasonably well – most of the time.
Party play is naturally where this game is aimed and as such it works perfectly.  Using either the Party Play game, or the Quick Fire mode you can be up and playing pretty quickly.
In Party Play you choose from a short, medium or long game and this determines the number of rounds on offer.  for example to short games offer up 4 rounds to each player.  You can have up to 4 players, each choosing a pre-defined avatar type that then gets a snapshot of the players face put in the middle of it.  You also get to record a small greeting – I recommend calling yourself weeeeeener as the pitch bend used on the voice playback is great!
Once in to the game you make your way through the rounds one player at a time, each time the brief game explanation is on offer as in free play mode, this is great for new players and kids that need reminding.  It is also skippable with the T button.
The Quick Fire game type allots each player a 60 second time limit and then flips between a series of 3 game types.  You must score as much as possible during this time.  This is then totalled and your opponent then takes a go.  This continues for 3 rounds.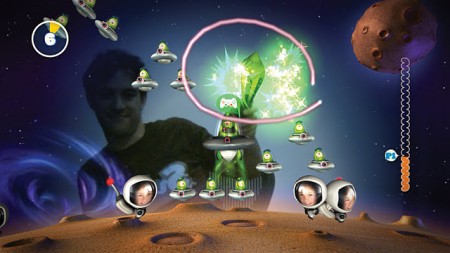 Multiplayer action is possible with only the one Move controller as well due to the pass-around nature of the rounds on offer.  Regardless of multiplayer game type after each round players are allotted a series of coins based on their position in the round.  These then add to a master total and determine the final places at the end of the rounds on offer.  The winner is then announced and a rousing winners musical score kicks in as you're treated to a series of grabs taken randomly from the winning players game performance over the course of the session.  It sounds simple but it's hugely satisfying and a great time to rub someone else's face in it – the true goal of all party games am I right?
Graphically the game is clean, bright and well animated with a touch of Little Big Planet's art ethos behind it.  Things look clear and the game runs at a suitably manic pace a lot of the time. musically the game also poodles along nicely provided the right up-tempo tunes and pops and whistles to make the whole experience sound as great as it looks.  some nice clear voice work is in evidence as well – although the game does use the "pick a game" type nags far to much and too frequently.
The game does have a few rough edges.  Some of the Move stuff goes more than a little haywire at times leading to huge frustrations in a mini-game.  Luckily this is negated by the fact you are no more than 59 seconds away from the end of the game and can tweak the calibration settings at any time with the Select button.
The range of mini-games, although a good spread over the 20, could have done with being at least half as much again to help maintain variety.  Over a reasonably long party session – save a couple of hours, you will see the same mini-games occur too frequently to aid longevity.
Also, no real unlockables is nice in that you get the lot straight out the gate but it means you have little reason to return after the initial buzz has worn off.
Final Thoughts
Start the Party: Save the World is a great mini-game collection.  It offers a solid amount of fun and is easy to pickup.  The party nature of the title means that is it a sure fire winner for the holiday season family gatherings or if you have a few friends over for some eggnog and mince pies.
Don't expect it to last more than a few plays but whilst it lasts it's great fun and a worthy title to add to your Move game collection.
Check current UK price on Amazon!