Sony saw a huge bump in hardware sales last week but the 3DS is still the best selling system by a wide margin.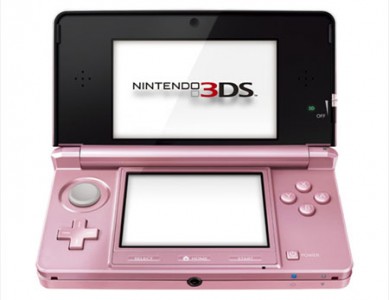 Media Create reported their Japanese hardware and software sales for the week ending November 20th today, and has been the case for several weeks the Nintendo 3DS sits on top of the charts with 96, 219 new units sold. Sony's PS3 and PSP saw huge gains for the week, both nearly doubling their sales from the prior week, landing in the second and third spots respectively.
On the software charts Call of Duty: Modern Warfare 3 for the PS3 debuted in the top spot with 180,000 in sales. Super Mario 3D Land continued it's strong showing at #4, followed by THQ's Saints Row: The Third which debuted at #5.
The full Japanese hardware and software sales charts for the week ending November 20, 2011 are as follows:
Hardware
3DS | 96.219 | 103.962
PS3 | 41.069 | 22.919
PSP | 40.085 | 23.472
WII | 13.613 | 11.782
NDS | 2.741 | 2.680
360 | 1.763 | 1.531
PS2 | 1.291 | 1.294
Software
01./00. [PS3] Call of Duty: Modern Warfare 3 – Subtitled Edition (Square Enix) {2011.11.17} (¥7.980) – 180.372 / NEW
02./00. [NDS] One Piece: Gigant Battle 2 – New World # (Bandai Namco Games) {2011.11.17} (¥5.230) – 116.062 / NEW
03./00. [PS3] Ni no Kuni: Wrath of the White Witch # (Level 5) {2011.11.17} (¥8.800) – 67.032 / NEW
04./04. [3DS] Super Mario 3D Land (Nintendo) {2011.11.03} (¥4.800) – 62.318 / 499.250 (-33%)
05./00. [PS3] Saints Row: The Third (THQ Japan) {2011.11.17} (¥7.770) – 36.222 / NEW
06./05. [PSP] Final Fantasy Type-0 (Square Enix) {2011.10.27} (¥7.770) – 30.543 / 682.173 (-47%)
07./00. [360] Call of Duty: Modern Warfare 3 – Subtitled Edition (Square Enix) {2011.11.17} (¥7.980) – 30.467 / NEW
08./01. [PSP] Hatsune Miku: Project Diva Extend (Sega) {2011.11.10} (¥5.299) – 30.042 / 214.715 (-84%)
09./02. [PS3] Sengoku Basara 3: Utage (Capcom) {2011.11.10} (¥5.800) – 25.771 / 149.968 (-79%)
10./00. [PS3] Ultimate Marvel Vs. Capcom 3 (Capcom) {2011.11.17} (¥4.990) – 22.436 / NEW
11./03. [PSP] Ore no Shikabane wo Koete Yuke # (Sony Computer Entertainment) {2011.11.10} (¥4.980) – 21.497 / 115.582 (-77%)
12./08. [WII] PokePark 2: Beyond the World (Pokemon Co.) {2011.11.12} (¥5.800) – 19.246 / 55.031 (-46%)
13./09. [WII] Kirby's Return to Dream Land (Nintendo) {2011.10.27} (¥5.800) – 18.671 / 236.039 (-25%)
14./00. [360] Saints Row: The Third (THQ Japan) {2011.11.17} (¥7.770) – 15.380 / NEW
15./00. [360] Halo: Combat Evolved Anniversary (Microsoft Game Studios) {2011.11.17} (¥3.990) – 13.106 / NEW
16./07. [PS3] Metal Gear Solid: Peace Walker HD Edition # (Konami) {2011.11.10} (¥4.980) – 12.721 / 52.464 (-68%)
17./12. [WII] Just Dance Wii (Nintendo) {2011.10.13} (¥5.800) – 12.477 / 216.255 (-15%)
18./13. [PSP] World Soccer Winning Eleven 2012 (Konami) {2011.11.03} (¥4.980) – 9.742 / 69.362 (-31%)
19./00. [3DS] Wii Party (Nintendo) {2010.07.08} (¥4.800) – 8.559 / 2.022.866
20./10. [PS3] Battlefield 3 (Electronic Arts) {2011.11.02} (¥7.665) – 8.094 / 150.265 (-57%)
Source: NeoGAF