Bobby Kotick was having a nice day till those douches down at K-mart started selling his game early today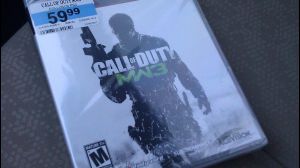 US retailer K-Mart has apparently put Call of Duty: Modern Warfare 3 on sale almost a week early. A member of staff for the chain told Kotaku that they had been given boxes which advised them to put the game on sale immediately. This flies in the face of the normally strict street dates that Activision puts on it's Call of Duty games.
People are speculating that this is a move from K-Mart to get a head start on the competition by offering the game five days before general release. If people have pre-orders elsewhere they might be willing to cancel and buy it from the chain which would make them a hell of a lot of money. However people have been buying the game not just to play, many copies are ending up on eBay. While I don't mind buying games before their street date I wouldn't sell it on eBay, because I like to play games. Street dates exist partly to provide parity to retailers and partly so that advertising can be more effective; breaking them can lead to huge fines or being blacklisted by publishers. Let's hope this was a planned stunt between Activision and K-Mart.
Source: Kotaku