Now in the wake of the largest New York Comic Con yet, it's becoming more and more apparent that the worlds of gaming and comic books are getting closer than ever. But does this team-up work? Is there anything to be gained from graphic novels based on games?
I had the good fortune of visiting both the San Diego and the New York flavors of Comic Convention this year and there was a gaming presence like I've never seen before at both of them. Massive displays from the big three- Sony, Microsoft, Nintendo, -joined up with booths helmed by Capcom, Konami, Square/Enix, and many more.
Late July's San Diego Comic Con has gotten larger and larger over the past decade largely on the back of the entertainment industry. Drawing fans of sci-fi TV and film as more and more company's hopped on the SDCC wagon. A waiter at a local restaurant, not all that far from the convention center, told me that the this past SDCC was the largest that the city had ever seen. His eatery alone served just over 29,000 plates of food over the four day event.
New York's Comic Con is slightly smaller. Started less than a decade ago, the NYCC has ballooned from it's humble roots to encompass the entire second floor, part of the lower level, and the outer halls, of the Javits Center. In the midst of a looming second recession in the United States, the Con's are strong. And getting stronger. A big part of their growth? Video games. The last few years have seen gaming companies not only start to really show off their wares, but truly make these shows their own.
This year alone, there were dozens of announcements generated from both the SDCC and the NYCC. News normally reserved for press conferences and mega industry events like e3 and the Tokyo Game Show now have brand new outlets. And with the consumer focused Comic Con's, the end users themselves can get up close and personal with the industries they love. But that's not the only effect that this melange of industry has produced.
Take Bethesda and iD software's RAGE for example. It's one of the biggest and most talked about games of 2011 and maybe one of the favorites for game of the year honors.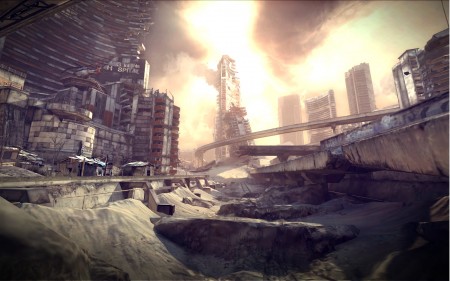 Earlier this year; Dark Horse comics produced a mini-series based on the game, that is now being rolled into a graphic novel to coincide with the title's release. The book, titled 'After the Impact', debuts in comic shops this week and doesn't actually follow the game at all. Instead, it's sort of an introductory side-story, taking a look at the universe of Rage and giving a synopsis (aside from telling a story) of just what Earth and human society looks like, post asteroid impact.

In the book, a scientist awakes from her cryogenic Ark to find the world she knew long gone. In it's place is, for lack of a better word, a mess. A tyrannical regime of old world led military, who conspired to make themselves leaders of humanity right up until they themselves entered into cryosleep, are in command. Their forces control every aspect of 'civilized' life in the ruined cities.
Out in the scorched deserts, life isn't much better. The independent towns and villages that do exist are constantly besieged by wastelanders (violent Road Warrior like gangs) and horrible mutants, whose origins are shrouded in mystery.
Of course, if you were to just fire up the Rage videogame, you wouldn't really know any of this. The intro cinematic to iD's latest FPS, while extremely well done, doesn't reveal anything other than what you need to get started in it's world. The space rock called Apophis hits the Earth and the lights go out for a lot of people. When your character awakens from his own Ark, he's on his own.
This is just one of the benefits of the marriage between comics and games. The other, of course, is to keep a universe alive between titles. Both Halo and Mass Effect have used the comic book medium to fair levels of success over the years.
Mass Effect, especially, has seen a large number of comic books published in the spaces between

game releases. In fact, Dark Horse comics themselves are the publishers of the sci-fi epic when it comes to the comics medium. Their newest offering, Mass Effect Invasion, launches tomorrow- right along with Rage: After the Impact.
The new series is being touted as "An essential new story from the Mass Effect 3 Universe"- not a shy statement by any means. But if more and more games are telling expanded stories through comic books and graphic novels, might the actual 'on screen' tales suffer?
What if, in telling an engrossing story through comics, the actual games start to be overshadowed? It would most definitely be a concern to, at the very least, single player fans; if there wasn't already a precedent set by another videogame friendly medium.
There have been actual novels written about the backstories of games, both tabletop and video, for about as long as I can remember. And when I say 'novel', I mean 'novel'. Even comic book heroes like the X-Men and Batman have had voluminous tomes written about them (not to mention games made about them) with nary a two page splash, or hand drawn panel in sight. They seem to be doing okay in spite of it.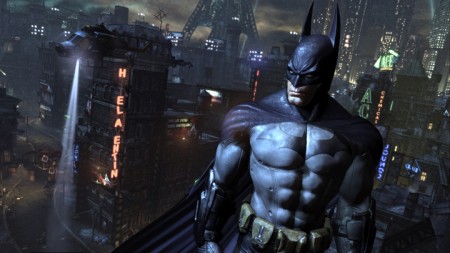 With the gaming industry ever expanding and comic books now breaking out from the printed page and crossing over to handheld devices and readers, it seems like both forms of entertainment are going to be sticking around for a while.
Personally, I think it's an obvious union. Games, like movies, deliver a self-contained story that can only be told and worked out over successive releases. These releases often land one to two years apart, leaving fans in the lurch in the meantime.
Comic books, by contrast, drop onto retailers shelves monthly; some even bi-weekly. There's a tremendous amount of development that can be done on a gaming universe like Rage with a monthly book, or even a graphic novel with that kind of regularity behind it. It's a great opportunity to keep a new IP fresh in the minds of fans and possible future fans, while sequels are worked on.
All this, by the way, and I haven't even mentioned the massive amount of money that can be made by game company and comic publisher alike. That said, the whole thing kind of becomes a 'no brainer' and an overall win for all parties involved. But, as long as the stories are well told and the property itself doesn't get too overexposed, it's a win for fans too.
Now, I'm just thinking… does Mass Effect release on the DH digital store, or do I have to head over to the comic shop tomorrow?