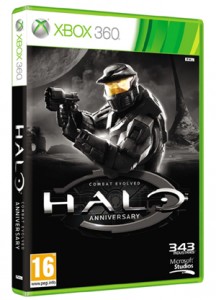 We have known for awhile that the upcoming HD remake Halo: Combat Evolved Anniversary will have some kind of Kinect functionality, but it was only this past weekend that the good folks at Microsoft got around to telling us exactly what to expect. In short, you will be doing a lot of yelling at your television.
Speaking at New York Comic-Con this weekend 343 Industries reps told attendees that through the power of Kinect voice commands (ie. saying "Analyze") you can use an "Analyze Mode" to log various enemies into an in-game database. This mode is only available if you have Kinect, so controller-only gamers are going to be missing out on the excitement. Additionally, you can also yell "grenade!" or "reload weapon!" and Master Chief will do the corresponding actions.
Finally, no need to just press that button located directly under your thumb in the controller that you are already holding. Welcome to the future of gaming.
Source: Joystiq