The OBi100 and 110 will be handy devices for consumers who just want devices that work like they should and are easy to set up.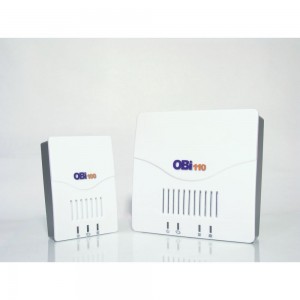 Technology is growing at an alarming rate, especially when it comes to communication. 10 years ago the devices we now use on a daily basis to communicate with our friends and family, like the iPhone or Skype, didn't exist. In 2001, if you wanted to chat with somebody without being charged a long distance call from your home phone line or using up your precious minutes on your cellular phone plan, you had to rely on instant messaging services like America Online's AOL Instant Messenger, or some other text-based communication service.
Today, in 2011, communication is instantaneous and accessible in an insane number of ways and interfaces. Gone are the days of needing a landline for people to reach you. With smart phones and social networking services (which may be on your mobile phone in the form of software applications) people can share information with you at any place and at any time.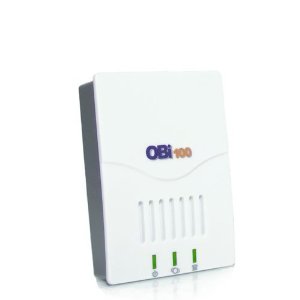 People like me and my family have done away with having a physical phone number at home. Even back in 2001, my primary form of telephonic communication was a very plain looking (definitely by today's standards) Samsung flip-phone. I had a phone landline in my apartment simply so that I could use dial-up to connect to the Internet, and make very local calls. Thanks to high-speed Internet, the home phone line was a thing of the past a couple of years later.
Unfortunately, communication isn't always cheap. With cool new smart phones come some pretty weighty data plan fees, some of which will end up costing you a lot of extra money if you go over your data limit. If you have a family plan and go over the monthly allotted minutes, you might find that you're being charged $0.35 a minute for every minute over your plan. Cell phone reception is also spotty at times and if the signal where you're calling from isn't sufficient, you may find yourself dropping calls.
Let's face it, as cool as cell phone technology is, there are some situations where a good old landline is much more necessary.
The folks over at OBihai are doing some cool things with technology and telephony. The Silicon Valley-based company has some rather cool devices that take advantage of Voice over Internet Protocol (or VoIP), and it's shockingly easy to set up and use. Even your grandmother can be up and running in no time.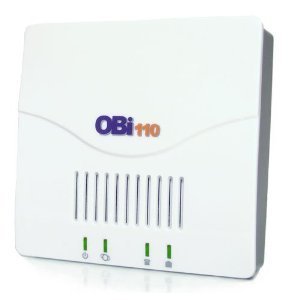 We were sent two devices, the OBi100 and OBi110 devices. For the most part, the two devices are identical in their purpose: to allow you to make telephone calls through your Internet service.
There is a catch. OBi devices can only communicate with other OBi devices. However, the OBi110 does have an extra telephone jack which you can plug into an analog telephone line (or POTS – "Plain Old Telephone Service") that will allow you to make a call to an OBi device or perform a normal call using your home phone service.
Setting up either device was a piece of cake. Each device comes with the device (obviously), an Ethernet cable, a phone line cable, and a 12V power adapter. Once you've powered on your OBi device, connected it to a traditional phone using the phone line connection, and connected the device with your home router using the Ethernet, it literally takes seconds for the system to power up and be ready to make outbound calls.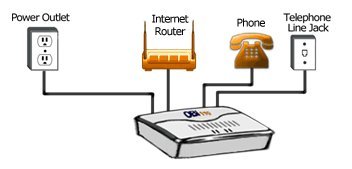 The OBi number is easy to find, and is clearly labeled on the bottom of each device. Each number is 9 digits long, and you can call other numbers by prefixing the number with "**9".
You can also download the OBiON application for Android and iPhone devices that will allow you to call (or receive calls from) other OBi devices using your smart phone. You can also make calls using the PC application as well.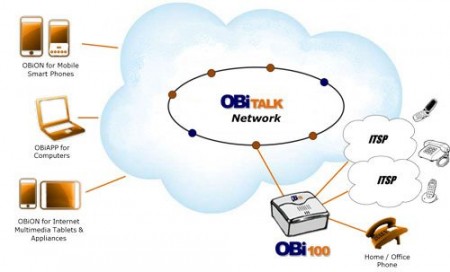 The web interface is impressive, and should keep track of your registered devices.
You can even connect your OBi device using a Google Voice account to allow you to call other non-OBi devices. Doing so is a bit more complicated, but the web site had a lot of great information on how to easily set it up.
There are a few downsides to the OBi devices.
The supplied Ethernet cable is only a few feet long, which means that unless you have a really long phone cord, you're going to need to have the phone and your OBi device in very close proximity to your Internet router. For me, it meant that I could only use the device on the living room phone. This also means that only one phone in the house can make or receive calls using the OBi.
While you can make free or cheap outbound calls to non-OBi devices using a service like Google Voice, specifically, there is no guarantee that Google won't eventually charge more to use their voice service.
OBi devices should not be used to make Emergency Service calls. Obihai Technology does not warranty the availability or quality of the OBiTalk network, and thus it should not be used to make 911 calls.
Final Thoughts:
For those looking for an easy and affordable way to communicate with friends and family, both the OBi100 and OBi110 devices are extremely affordable and easy to use.
I personally think my cell phone is the best and easiest way for me to communicate with loved ones, but I can see the advantages of having the device, especially for small families and businesses. Give one to grandma and hook one up at home, and you all can talk for hours without any extra Internet costs or phone/wireless service charges. I can also see this being useful for small businesses where employees work remotely and need a cheap and easy way to connect without covering everybody's home phone bill.
As long as you have the device, a standard telephone, and access to an Internet router, you can take the device with you, plug it in, and be immediately accessible.
For the geek enthusiast, there may be other options, but for those who just want a device that works like it should when you plug it in, the OBi devices will do just fine.
Currently, on Amazon.com the OBi100 is available for $43.99 and the OBi110 is available for $49.99. Not bad for a one- (and only) time fee!