The original Crysis hits your favorite HD console today, which mean only one thing. It's launch trailer time my babies!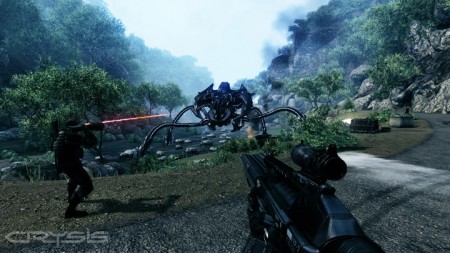 Crysis hits Xbox Live Games on Demand and the PlayStation Store later today, for 1600 Microsoft Points or $19.99 in real money. To prove that the development team successfully manged to cram the 2007 PC hog onto consoles a launch trailer has been released showing off exactly what you will get for your money.
Granted it's not up there with how Crysis runs on a high end PC, but I don't think anyone could have expected anything more for a port of Crysis.
Check out the trailer below:
Full press release:
EA and Crytek Deliver Crysis to Consoles Today

Suit up and Survive as the PC Hit Explodes onto PlayStation Network and Xbox LIVE

REDWOOD CITY, Calif.–(BUSINESS WIRE)– Electronic Arts Inc. (NASDAQ:ERTS) and award-winning developer Crytek GmbH, announced today that the critically-acclaimed, single-player campaign from the PC hit Crysis® is now available for purchase on PlayStation®Network and Xbox LIVE® Games on Demand for $19.99 or 1600 Microsoft Points. Gamers can now play with improved Nanosuit gamepad controls and fine-tuned combat as they take full advantage of CryENGINE 3®'s visual optimizations in this thrilling downloadable version of Crysis for consoles, which also has full stereoscopic 3D support.

"We're really excited to bring the legendary Crysis to gamers who weren't able to experience it the first time around," said Cevat Yerli, Chief Executive Officer of Crytek. "The CryENGINE 3 has allowed us to remaster the single-player campaign and make significant advancements to the gameplay. We've added a new lighting system, some advanced rendering techniques and most importantly, we've optimized the Nanosuit controls to utilize its full potential on a gamepad. We really hope that gamers will enjoy playing the game as much as we've enjoyed developing it."

In 2007, critics around the world hailed Crysis as the PC game that ushered in the next-generation of gaming with jaw-dropping visuals, industry leading technology and groundbreaking sandbox gameplay, featuring the super-powerful Nanosuit. Today, gamers will have the chance to utilize the Nanosuit as they fast forward to 2019 where a team of US scientists make a frightening discovery on an island in the South China Sea. All contact with the team is lost when the North Korean Government quickly seals off the area. The United States responds by dispatching an elite team of Delta Force Operators to recon the situation. As tension rises between the two nations, a massive alien ship reveals itself in the middle of the island. Now with hope rapidly fading, the US and North Koreans must join forces to battle the alien menace, fighting epic battles through stunning, photorealistic tropical jungles and frozen landscapes.

For more information on Crysis, please visit http://crysis.ea.com or http://mycrysis.com and follow the game on Twitter at http://www.twitter.com/crysis or "Like" Crysis on Facebook at http://facebook.com/crysis.
Source: PlayStation Blog