Brutal Gamer take a look at the demo of Double Fine's Sesame Street: Once Upon a Monster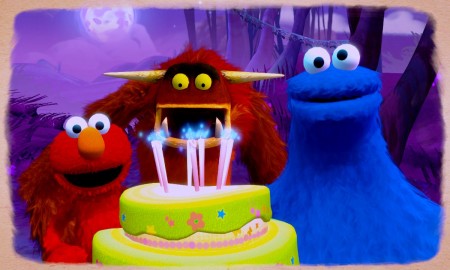 Ten years ago, I was excitedly awaiting the launch of the original Xbox, and the final release of Halo. The game had undergone multiple changes, from something of a PC real-time strategy game to a console-exclusive first-person shooter. Who would have thought that the young man who considered himself to be a hardcore gamer, would, a decade later be excited over the news of a demo release of a Sesame Street game.
It's true. There was a certain level of excitement that I felt when I saw Twitter aflutter with the announcement that the Kinect-exclusive Sesame Street game Once Upon a Monster was available to download for Xbox Live Gold members.
I was excited for two reasons. The first: I am a huge fan of technology. As gimmicky as the PlayStation Move and the Xbox Kinect can be, when the tech is used well it can make for a very interesting experience. The second generation of Kinect games is upon us, with developers having had more time to designing game for and around the technology, and seeing what a developer like Double Fine can do with the Kinect was exciting to see. I was also excited because I know my two youngest kids, a 2 and 4 year old, would like this — especially the 2 year old, who has just really started showing appreciation for Cookie Monster ("Kee-koo Mun-ster", as he says) and Elmo (aka "Gaga").
I downloaded the demo, which weighed in at less than 1GB, and fired it up. As soon as Elmo and Cookie Monster appeared on the screen, the 2 year old's eyes lit up. My 4 year old, while interested, sat off to the side trying to assess how much attention to give it.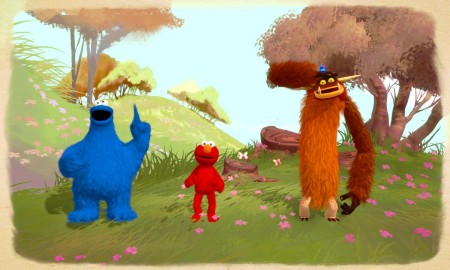 One of the best parts of Once Upon a Monster is that the Kinect calibration is very forgiving. While it may not recognize you, or you may be too far to one direction or another, it doesn't take you out of the experience.
If you do step outside of the camera, a little monster pops-up, like a pop-up book, and waves at you while the on-screen action goes on. Waving is how you get the Kinect's "attention" regardless of if you're playing a game or using an application, like Netflix. In Once Upon a Monster there's a big focus on waving to keep you in the action. If you're outside the bounds of the camera, Elmo will discretely tell you that he can't see you, and you'll see a small picture-in-picture preview of how the Kinect sees you, so that you can step into proper frame.
While I'm not sure if the Kinect read the actions of my 2 year old — and to be honest he's a 2 year old and his actions are all over the place — it definitely read my 4 year old's movements. He decided to jump in a few minutes into the demo. The inability to see small children was an original criticism of the Kinect, and seems to have been addressed.
The game itself is a bunch of mimicking. Follow the movement of the monsters, whether they're dancing or marching in place. At times you'll see your actions reflected in the movement of Elmo or Cookie Monster — your arm movements and body angle are theirs. The animation seemed smooth – gone were the glitches of strange arm spasms associated with early avatar based Kinect games.
The demo lasted for two activities, which seemed to go for about 10-15 minutes. The animation is cute, the voices are authentic, and the production value for a Kinect game — especially a childrens Kinect game — seem pretty high. While this was just a taste of what is to come, I think my wife and I may consider purchasing it as a Christmas gift.