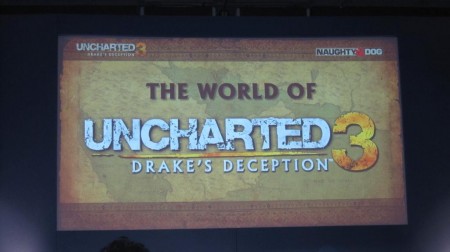 Much like last year, the only conference I really wanted to get in to at Eurogamer Expo was the Sony one.  Last year it was to oggle the fantastic inFamous 2 from Sucker Punch.  This year I was desperate to see Uncharted 3.
The conference was being hosted by Richard Lemarchand, co-lead designer for the thrid installment of Drake's adventure.  His co-host?  The one and only Nolan North – the voice of a million games!
They started by showing off the ship trailer that was demonstrated at E3 this year.  Having seen the video I was not prepared for just how much better is looked in person, in full HD on the large projected screen.  The intricate design that has gone it to the water based modelling was discussed briefly and it blows your mind.
Not only does the ship actually float, as in it's not animated there it actually floats in the water.  But there are areas within the boat – for example the pool or a flooded corridor, that use a separate water engine.  This means that the boat, when it starts to sink, does so in a unique way every single time.  The shifting of the water inside the boat, your location, enemies alive all these things alter the weight and physics meaning that the boat sinks differently each time.
It's this incredible level of detail that has kept Naughty Dog ahead of the game since the release of Uncharted.  To this end Richard talks about the process they use to capture performance.  Here Nolan North steps in to take us through how the process is handled.
Over the past few years North, in conjunction with his fellow stars and the Naughty Dog team, has developed and refined a performance capture methodology that allows incredibly detailed movement and interaction whilst leaving them free to move around.  A question from the audience asked North how he felt about the facial animation system used in LA Noire.  He mentioned that it looked incredible but allowed for very little personalisation or movement from an actor.  This would lead to stilted and unnatural performance.  Naughty Dog are well knows for not motion capturing the actors facial expressions during mo-cap.  Instead they use a team of dedicated animators to implement the facial expressions using the video captured during the live performance.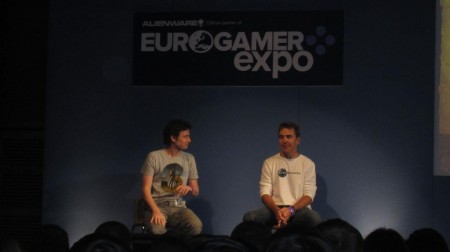 Then the big surprise.   Richard introduced a brand new live gameplay section that has never been demonstrated in public before.  This section has been glimpsed in the early trailers for the game and has Drake awaken in the middle of a vast desert area.  As he moved he is clearly exhausted and dehydrated and the character animation is superb.
The sand technology looks very impressive and seems to build on the work done with the swarming snow effects from Uncharted 2.  In fact Richard and Nolan both draw attention to the fact that members of Naughty Dog's dedicated special effects team spend days in the Imperial Dessert just capturing sand and it's movement to better create the effects needed.
As Drake moves through the dunes you can't help but be impressed by not only the sand effects but the draw distance and animation going on at this level.  When Drake makes it to a distant Oasis it appears to be a broken down city of sorts.  As he makes his way through the dishevelled remains he searches frantically for water.  When he eventually stumbles down a well he laps up the last few drops all in glorious playable real time.
Invigorated he now sets out to explore the ruins.  When he runs across some goons the fighting kicks off and this is firmly Uncharted 2 action.  It all seems tweaked a little but still much the same until Drake gets in close and executes a nifty melee attack that knocks the enemiues rifle up through their arms and Drake catches it mid-air.  There are apparently a load more melee dis-arms like this along with a new tweaked combat system.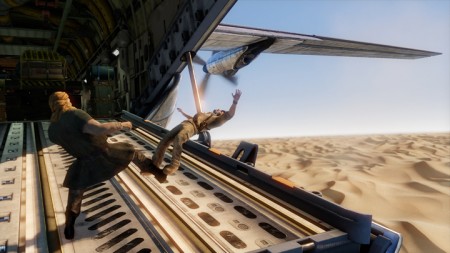 The final noticeable element here is that Naughty Dog has introduced some nifty new lighting techniques such as volumetric lighting.  This makes the whole thing look just that little bit more realistic with great use of shadow helping achieve this.  Clearly ND has been talking lighting engines with Insomniac if Resistance 3 is anything to go by.
As they close out the play session and thank attendees one thing is for certain.  Unchared 3 is shaping up to be the most compelling adventure yet.  Firmly living a DH Lawrence dream, this story looks set to take Drake to even more extreme places.  Worries that the game might be more of the same are poorly conceived in so far as Uncharted 2 was close to action adventure perfection and another game that takes that base and tweaks it a little would be sublime.
To accompany the release of the game Nolan North has produced a book on the making of the Uncharted titles.  Entitled Drake's Journal it will take look behind the scenes at exactly what goes in to making an Uncharted game from the mo-cap performances, to the visuals, story and sound.  It will be released via Gamespheres.com in both digital and print editions.
Uncharted 3: Drake's Deception will launch exclusively on PS3 on 1st November in the US, 2nd of November in Japan/EU and 3rd of November in Australia.