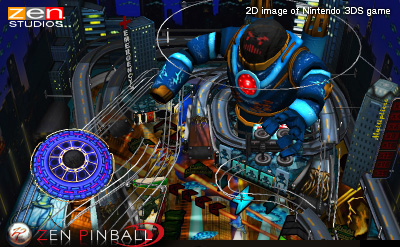 Zen Studios announced today that they are developing a version of Zen Pinball for the 3DS to release this Fall on the Nintendo eShop.
Zen Pinball 3D will include four of Zen's original pinball tables (Earth Defense, Shaman, Excalibur and Eldorado) all in 3D, along with online leader boards, table rankings, local "hot seat multiplayer", and rewards for accomplishing specific table missions.
Check out the first screenshots, trailer, and full press release below.
Zen Pinball 3D Coming to Nintendo 3DS™!

Critically acclaimed pinball series making Nintendo® debut appearance on the Nintendo eShop

LOS ANGELES – September 20, 2011 – Zen Studios, the definitive leader in pinball videogames, today announced that its critically acclaimed pinball series, Zen Pinball, is coming to the Nintendo eShop. Zen Pinball 3D on Nintendo 3DS will feature four of Zen Studios finest originally designed tables including Earth Defense, Shaman, Excalibur and Eldorado, all in stunning 3D.

"Releasing Zen Pinball on a Nintendo platform marks an amazing milestone for Zen Studios. We are really excited for Nintendo fans to experience one of our greatest passions – the timeless game of pinball!" said Mel Kirk, Vice President of Marketing and Public Relations. "Playing pinball in 3D is killer, it's like the game has been totally reinvented, and a whole new world opens up right before your eyes."

Zen Pinball 3D on Nintendo 3DS will feature local hot seat multiplayer, online leader boards and table rankings, multiple view points and rewards for playing and accomplishing table specific missions. In addition, players will compete to achieve the greatest Pro Score ranking, which is the sum of a player's high score across all tables, and a Team Score which is the sum of a player's score and friends score.

Earth Defense pits the player against hordes of hostile aliens as they try to take the planet by storm! As the captain of the Earth Defense Special Forces, it is your mission to rally the defenses and protect planet Earth.
Players will experience life as a novice sorcerer who must master the trade of summoning spectacular natural phenomena in Shamen.
Travel back to the middle ages to the Kingdomof Camelotand become a Knight of the Round Table in Excalibur.
Experience the unexplored jungles of Eldorado as you hunt for hidden treasures and uncover the mysteries of ancient civilization.
Players can download Zen Pinball 3D from the Nintendo eShop this fall.