If Angry Birds can be considered a "physics game", Hungribles can be called a "gravity game."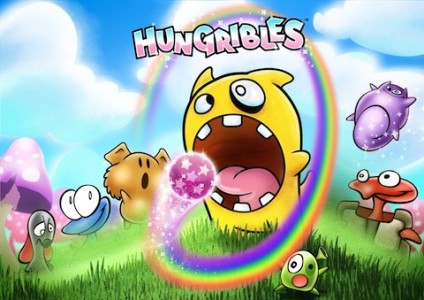 Hungribles features an assortment of cutely animated creates each with an insatiable appetite, especially the cat-like creature who balloons up when fed. The goal of each level is to feed each hungrible by shooting a food orb into its mouth.
You control a disembodied mushroom slingshot, and within each level area are obstacles and objectives. At it's easiest, you aim your shot at the hungrible and fire. Unlike Angry Birds, the trajectory of your shot will be displayed by a rainbow path before you even take the shot, assisting you and making each shot more accurate. Having your path drawn out before you may sound like it cheapens the experience and makes the game less challenging, but as move forward through the levels and worlds, the obstacles will begin to pose a greater challenge.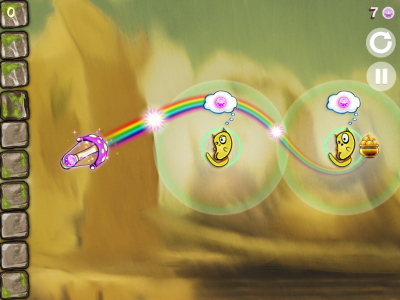 Unlike Angry Birds, where your objective is to destroy in as few shots as possible, in Hungribles your goal is to get food orbs to your hungry creatures in the fewest number of attempts.
Each hungrible is like a planet floating in space complete with its own gravity. The gravity field is visualized as an aura around them. Aiming above or below the beastie, will affect the curve of your shot to allow you to reach targets (or other hungry fellows) with which you don't have a clear shot.
The cat is the first creature you'll encounter, but you'll also be introduced to other hungribles each with with a unique purpose, like the turtle who's gravity field shrinks a bit every time he's fed. There is also a bat-like creature who's gravity aura disappears and reappears with each consecutive feeding. There are also tall, skinny rat things that apparently don't like to be fed, and have an anti-gravity field that deflects your shots.
The combination of each hungrible's abilities, solid surfaces that you can use to rebound your shot, and moving targets, makes for a quite a challenging experience as you progress onward.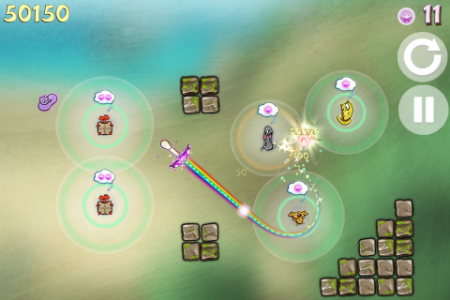 Hungribles consists of three worlds each with 45 levels. *** UPDATE: After the review was published, Brutal Gamer was informed that the fourth world is now available and is free. *** Original Text: There is a placeholder for a fourth world with the statement, "New world coming soon!" There is no word as to whether or not the world will be included in a future update for free or may be a piece of premium content. Considering it's not typical for games of this style to charge for additional content, I think it's safe to assume it'll be free.
One major knock against the game is that it is NOT COMPATIBLE with iPhone 3G, original iPhone, iPod touch, iPod touch 2nd gen, or iPod touch 3rd gen (8GB). According to the iTunes product page, black boxes only appear on screen when trying to play Hungribles on an incompatible device. If you have an older iOS device, you may be out of luck.
Final Thoughts:
While I'm a big fan of the Angry Birds games, I will also be the first to cheer when interest in the series finally dries up and the games disappear from the top of the sales charts. To that effect, Hungribles feels like an Angry Birds games, in that it's easily approachable, but is different enough to stand out on its own.
It's cute and fun, and just when you think the developers couldn't possibly come up with another unique challenge to keep each level feeling fresh and interesting, they deliver – right on time!
Hungribles is priced at $1.99, which is slightly higher than like-minded games, but I think it's still worthy of your attention, assuming that you don't have an incompatible device.
If you're tired of looking for a new game to pique the interest of the masses besides Angry Birds games, check out Hungribles. I think it'll satisfy that hunger pang.