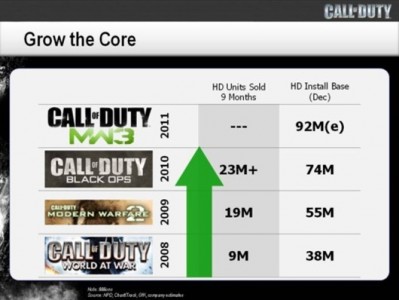 Activision revealed new Call of Duty sales data yesterday showing that Black Ops has reached over 23 million units sold and that's just on the Xbox 360 and PS3, not counting sales of the PC and Wii versions. That puts Treyarch's title 4 million units ahead of Modern Warfare 2 and more than double the sales of their previous CoD game, World at War.
Even more impressive is that those 23 million Black Ops gamers have purchased over 18 million map packs since the game launched. That is 7 million more than Modern Warfare 2 and 9 million more than World at War.
Activision didn't try to project what sale sales of Modern Warfare 3 will be, but they did point out that there are about 18 million more HD consoles out there now than when Black Ops launched. That would seem to give the game a good chance of topping Treyarch's achievements.
Source: Joystiq