A short while ago, I got to go hands on with Insomniac's upcoming end cap to the Resistance trilogy. With a new hero and some new bells and whistles, R3 offers something of a re-energizer for series fans, but make no mistake this is still war.
If you're new to the franchise, Resistance takes place in an alternate version of the 1950's. In that time line, a hostile alien force known as the Chimera have poured out of an isolationist Russia. Their forces quickly overwhelm most of Europe, actually turning the majority of it's human inhabitants into Chimera themselves.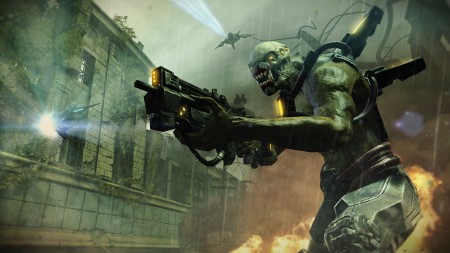 Now at the brink of extinction, the last remaining scraps of a beaten mankind struggle for mere survival against the alien horde. At the start of the third game, we're introduced to the new hero of the series, Joseph Capelli. If you don't know who exactly Joe is, other than the rare Italian videogame hero, I won't spoil it for you- but the bottom line is that he's a complicated guy.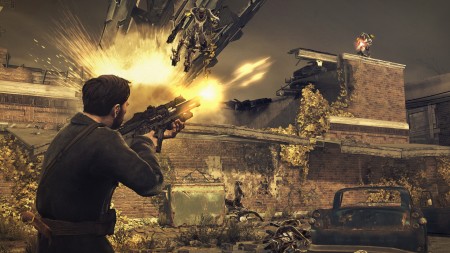 When the Comic Con demo started, Joe was fighting his way through a small town that had been devastated by the Chimeran assault. The first thing that jumped out at me when I took the controls was the graphic quality of the game. It's excellent, and maybe it's just been a while since I played R2, but part 3 stands head and shoulders above it in the looks department. Everything has this cool visual feel to it and the landscape feels dirty, beaten, and battered.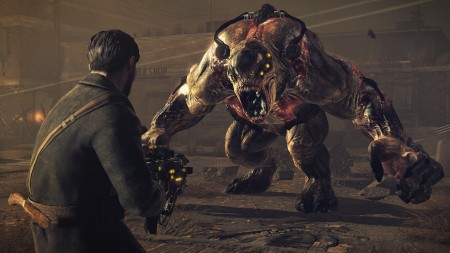 The whole package delivered actually, listening through the high quality headsets that accompanied the game kiosks was heaven. Insomniac has done an excellent job on making the game sound like a war zone as well as look like one. And although the Sony booth wasn't outfitted, Move and 3D support will be native… but like you couldn't have guessed that one.
I'll mention the gameplay only because it should be noted- but you won't find anything shocking or amazing here if you've played either of the previous entry's on the PS3 (or any other FPS for that matter) And that's not a knock by the way, since the controls are pretty solid, if standard. Pretty much the only thing worth talking about as far as input goes is that the weapon wheel has made it's comeback.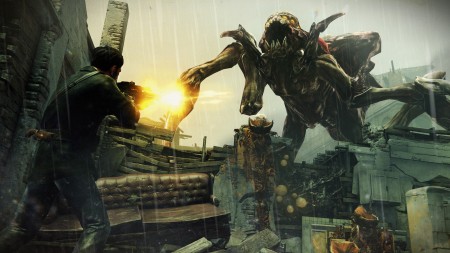 I honestly don't remember too much of how Resistance 2 controlled (the wheel took the day off for that one), but the it works well for selecting weaponry and seems like an 'if it ain't broke…' kind of thing. Which of course calls to mind the question of why they tried to 'fix it' in R2, but I digress. There are a few new guns to play with here too but I didn't get any hands on time with them. Stuff like shrapnel grenades and a gun dubbed 'the Mutator' are parts of the armory now- and they certainly sound like they'll be fun little toys to play with.
Another aspect that I didn't get to try out was the multiplayer. I'm admittedly 'meh' on multi in general and I'd much rather play a well thought out single player campaign than go a billion rounds against a bunch of cussing, ill tempered, sore losers (and winners) online.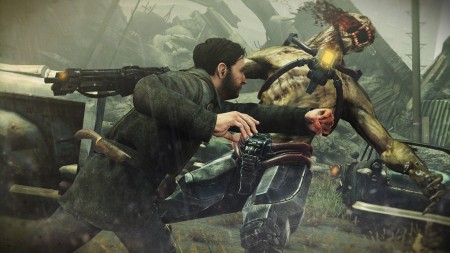 Overall I'm seriously looking forward to Resistance 3. This was a game that was just barely on my radar, but as of right now I'm itchin' to blast some bug-eyes back to wherever it is they came from.
Resistance 3 launches September 6th exclusively for the PS3.