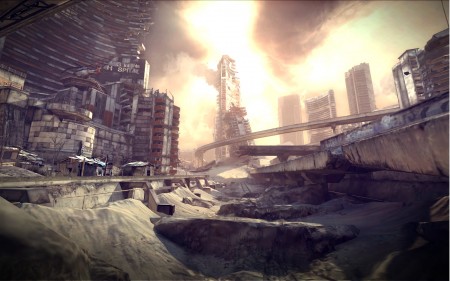 Maths nerd, 3D Engine genius and wannabe rocketeer John Carmack has stated in his QuakeCon address that Rage on 360 will come with two options.
Those options will basically be install or risk that game running like a dog.
Xbox 360 owners already know that Rage will be runningwith scaled down textures and reduced assets thanks in part to the lack of space imposed by the systems DVD Drive.  Last year Tim Willits of iD stated that the game would be coming on at least 2 DVDs and this has been backed up by Carmack's install figure.
In his address the top iD man said:
"On the 360 we don't have a partial install option; it's all or nothing, which is kind of unfortunate.  It means you have to install 21/22GB of stuff which takes a long time but if you've got it and you play it on the 360 that's the way to go."
Now that is a fair old investment in disc space and no mistaking! Whether the PS3 has a similar install is yet to be seen.  But if you're planning on playing on the 360 edition I would recommendmaking sure your hard disk has the space before hand.  You'll also have a massive wait while the 22GB installs and decompresses to your drive – perhaps you could spend your time learning to juggle or play the flute?  No.. just a thought!