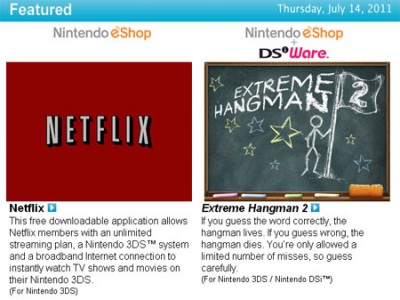 Nintendo has just announced that the Netflix application needed for streaming movies to the 3DS will be available as part of the July 14, 2011 update, which just happens to be tomorrow!
The free download, which was listed in a Netflix ad yesterday as coming out "this summer", will allow 3DS owners who have both an unlimited streaming Netflix account and a broadband Internet connection to watch TV shows and movies on their Nintendo 3DS.
Source: Nintendo
A gamer since the Intellivision days in the early 80′s, who started writing about and covering the video game industry in 2008. In his spare time he is also a bit of a gun-nut and Star Wars nerd.