A BrutalGamer.com review
Chillingo have managed to build a considerable empire based on titles like Angry Birds, Cut the Rope and recently Feed Me Oil.  What you might not expect them to push out is a title like D.A.R.K.
In this title Chillingo show a glimpse of a maturer aspect to their output that holds promise for those of us looking for a little more from their games – not that I don;t love those other titles, I could just do with something a little more "grown-up".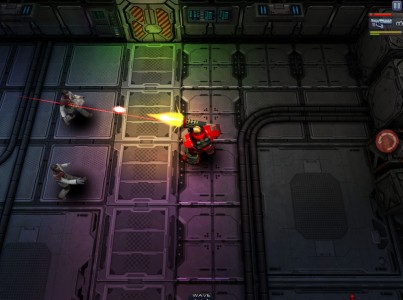 This is certainly what is being offered here with the dark, gritty visuals and chunky Space Hulk like aesthetics.  Whilst broaching the visuals early on I must say the game looks very good in general.  Sure it's a little grainy and generic in places and won't both Infinity Blade in the school yard, but it still does a good job on the whole.
Describing the game as a twin stick shooter is a little harsh but gives you a good idea of where I'm coming from.  At certain points in the game your right stick will appear on screen (below the roll button) and at this point you can take on waves of nasties all after your gizzard.
Along with what would have been a very mediocre shooter you have an element of limited linear exploration and smattering of RPG in the form of the upgrade system.  Those descriptions might have seemed a little harsh but developer Gamelab have added in just enough of each to make things interesting and add longevity.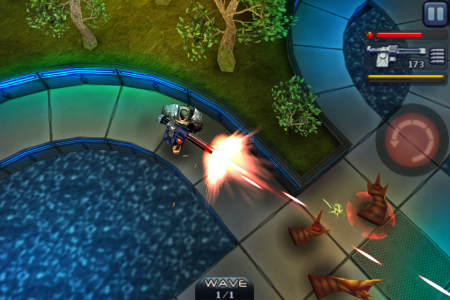 What was missing for me though was the drive to continue to explore after the first hour.  You see D.A.R.K. is sorely lacking in a strong narrative to drive the exploration side of things.  Which is a shame as I think with a strong narrative behind it then the game could have moved in similar circles to EA stablemate Dead Space.
There are a frustrations with the controls as well.  I found very often I would start rolling all over the place instead of actually aiming with my weapon.  This was partly down to a cramped side bar (size of buttons can be tweaked a little) and that I have large finger.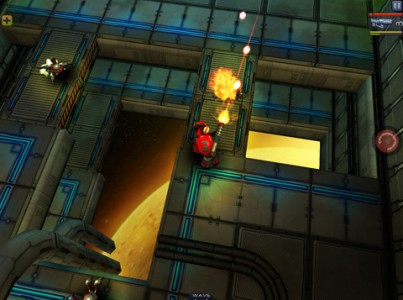 Final thoughts
D.A.R.K. is a worthwhile distraction from the glut of physics based titles and knock-off dual stick shooters that plague the platform at the moment.
With a little more thought and depth to the story narrative, you would have a solid title with a reason to continue to explore.  As it is you feel a little disconnected from the action that is taking place.  As such you can soon lose the impedes to return and explore more.
That said, for the money, you are getting a more grown-up game that needs to be applauded and nurtured if we want companies like Chillingo to go further down this road.