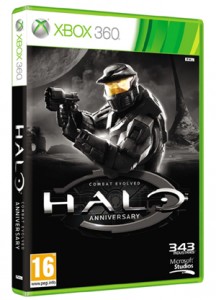 Microsoft has confirmed that the recently announced Halo: Combat Evolved Anniversary remake will include support for the Kinect sensor.
Speaking to GameSpot, Microsoft Game Studios boss Phil Spencer said "As a first party we believe that Kinect will be important to all genres of games, be it racing games with Forza, combat games like Ryse — even games like Halo Anniversary has Kinect integration."
Spencer did not mention exactly how Kinect would be used in the Halo remake, but he did state that at some point in the future all first-party Xbox 360 titles will have Kinect integration.
*Update* Kinect integration is optional, from Halo Waypoint forum admin 'bs angel': ""Just to let everybody know, the Kinect features we're exploring with Halo: Anniversary are optional and won't affect your core gameplay experience. Our mission, from day one, has been to deliver a faithful recreation of the original game, and we remain dedicated to seeing that through to completion." – Link
Source: Gamasutra
A gamer since the Intellivision days in the early 80′s, who started writing about and covering the video game industry in 2008. In his spare time he is also a bit of a gun-nut and Star Wars nerd.