Beyond Good & Evil HD is still missing from the PSN, release details are said to be "coming soon".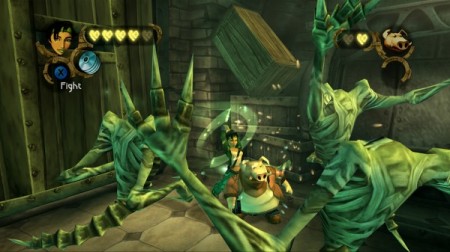 Last March the HD remake to the cult classic Beyond Good & Evil launched on Xbox Live, read our review of it here, and the title was originally scheduled to release on the PlayStation Network last May. That obviously didn't happen due to the PSN hack that resulted in Sony's online service being shut down for the month. Eager fans received good news at the start of June when it was announced that Beyond Good & Evil HD would launch on the PSN on June 8th. Sadly, that date came and went as did another PlayStation Store update on June 14th and as of today BG&E HD is still not available on the PSN.
Brutal Gamer has contacted both Sony and Ubisoft to inquire about the release date for the classic title, and much like the development status of Beyond Good & Evil 2, there seems to be a lot of mystery and a little confusion surrounding the launch date for BG&E HD on the PSN.
We contacted Sony first and were told that because the title was an Ubisoft game we would have to "contact them directly" to see when BG&E HD would be released. On our first attempt with an Ubisoft representative we were told that there was no delay for the game "beyond the PSN issues" and it "should be up when Sony catches up on the backlog."
Heading back to Sony with this new information resulted in being directed back to Ubisoft, this time to their PR Coordinator Alex Monney who told us that "We haven't announced a price or date yet, but we will have more information coming soon."
At this point it's a little unclear as to what the exact release schedule is for Beyond Good & Evil HD on the PSN. With Ubisoft stating that neither a price or date has been announced for the title it seems like the company might be choosing to wait to release the game at some point after the PSN gets back on schedule, but that is only speculation at this point.