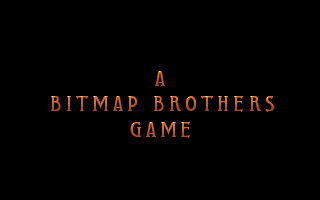 We all love a good game – if we didn't then we wouldn't be here now, on this site, am I right? Well like all good things video games "came" from somewhere. From those early days of pubescent sweat infused bedrooms. From the fledgling start-ups trying their utmost to get financial backing from anyone other than their parents before their company sank. All these classic games that formed the foundations for the massive multi-billion pound/dollar industry we see today had one thing in common – the dedicated people behind them.

These people took a chance on something they loved. People like the Bitmap Brothers, the Darling Brothers, the Oliver Twins, David Braben, Peter Molyneaux, Jeff Minter, Sensible Software, Ultimate, Graftgold, Geoff Crammond, System 3, id and many more. When they put keyboard to compiler there was no corporate sponsorship. They had no venture capitalists beating down their door for the next big thing. All they had was talent, passion, creativity and a whole crate load of guts.
Over the coming series of features, similar to our "Lookin' Back" feature which look at classic games, we will take time out to pinpoint and chart the companies and individuals that have driven our favourite form of entertainment in to the mainstream success it is today.
The Bitmap Brothers established themselves way back in 1987 in the UK. Based in Wapping, East London, the fledgling start-up was founded by Mike Montgomery, Eric Matthews and Steve Kelly. With Montgomery as MD the team set about cooking up their first title for the exciting, but untested, Atari ST home computer.
The fruits of their initial labour was a title by the name of Xenon. Released in 1988 Xenon was a vertical scrolling shooter with a few neat twists – namely instead of being forced to move constantly the game played a little more like Commando or Ikari Warriors. It also allowed you to morph between a tank and a ship taking on air and ground forces with the same craft.
The game was very well received becoming a phone-in title on UK Saturday morning kids TV show Get Fresh. The title was quickly ported to the ZX Spectrum, PC, MSX, C64, Amstrad CPC and Amiga 500.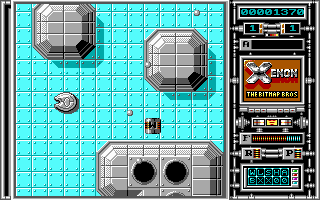 Whilst scores of gamers wasted hours and hours in their bedrooms with Xenon the Bitmap Brothers team was slaving away to serve yet another stone-cold classic, Speedball. Coming later in 1988 this title was once again published for the Atari ST to rave reviews. As with Xenon the Bitmap Brothers had taken a simple well established premise and added a few neat twists of their own. Basically Speedball was the culmination of a fever dream between classic James Caan movie Rollerball and 5-a-side football (aka soccer!). The title won the coveted Golden Joystick award in 1989 for Game of the Year.
To finally cement their dominance of the emergent 16-bit computer-based gaming market the Bitmap Brothers released a benchmark title in August of 1989. This sequel to 1988 Xenon was to be the game that placed the Bitmap Brothers firmly in the top spot. Xenon II – The Mega Blast was designed by the team but coded by UK development house The Assembly Line. It featured a level of audio quality unheard of at the time. The game was the first to represent a music track in it's entirety with little to no alterations. The load music, especially on the Amiga, was a very faithful rendition of Megablast (Hip Hop On Precinct 13) by Tim Simenon's group Bomb the Base. The load music was slimmed down a little for the in-game action but it was still a masterpiece of coding that helped push Xenon II to new heights.
Coupled with gorgeous graphics the game was not equaled in production values by any game for some months. In fact it was the Bitmap Brothers' own Speedball 2 in late 1990 that manged to push the envelope once again. The ports of Xenon II fared less well with levels being dropped and the trademark music being reduced to poor synthesized recreations. The game also had a punishing difficulty curve – a trademark of many Bitmap games – and one of the biggest let down endings of all time – yes worse than Fable 3!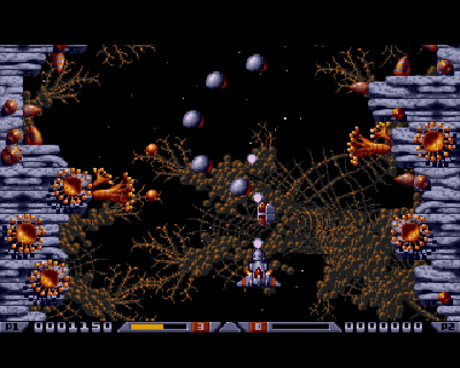 Following on from their successful take on the isometric RPG title, Cadaver (1989), the Bitmaps decided to revisit their success with sequels with Speedball 2 : Brutal Deluxe. With a release schedule that is still active today Speedball 2 has seen iterations hit platforms from the original Atari ST and Amiga right up to the Gameboy, DSi, Xbox 360 and iPhone. This remains the Bitmap Brothers' most successful title to date.
The main differences with Speedball 2 : Brutal Deluxe are the upping of team number from 5 v 5 to 9 v 9 and the arena based score multipliers and hazards. Add to that yet another triumph in polish and production values, great graphics, smooth gameplay, a huge league game, competitive multiplayer and another masterfully mastered audio track and you have a genuine second classic in gaming history. The incidental "Ice Cream! Ice Cream!" called out by the seller in the stalls is still a widely known catchphrase amongst the older generation of gamer.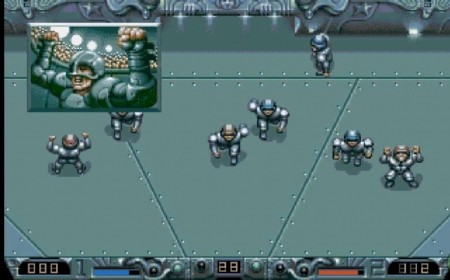 Speedball 2 received masses of praise on it's release and landed the studio another Golden Joystick, this time for Richard Joseph's (R.I.P. – a true genius!) audio work. Later iterations have met with limited success but recent additions on the iOS platform have been well received.
At this point the Bitmap Brothers, apparently fed up with poor publishing deals and deadline squeezes, setup their own publishing company, Renegade Software. The first title to out of the gate on their own label was yet another genre leading title – Gods. This new take on the platforming genre introduced puzzle elements, gorgeous graphics, yet another blinding soundtrack and a very well balanced game. The AI in the game was also greatly praised for it's ability to adapt to your skill and play style – another industry ground breaker for the Bitmap Brothers. The title was well received by critics and gamers alike and was lavished with scores well into the 90's.
Titles came thick and fast from this point on. The Bitmaps started to put out more and more content with Gods, Magic Pockets (a platformer featuring music by hip-hop artist Betty Boo) and expansion Cadaver : The Payoff all shipping in quick succession in 1991. The latter titles were met with moderate success but the speed of production seemed to have effected the Bitmaps normal level of quality.
At this point they seemed to hit the development brakes and set about publishing several other high profile titles via Renegade Software. Classics like Sensible Soccer, Fire & Ice, Uridium 2, Turrican 3, International Sensible Soccer, Ruff 'n Tumble and Sensible World of Soccer (aka SWOS) we're all put out by the publisher from 1992 to 1994. The only Bitmap Brothers title to be released was the, once again, ground breaking Chaos Engine (1993). This was a top-down run and gun shooter with some RPG like elements introduced. The title was also known as Soldiers of Fortune in the US marketplace on Snes and Genesis.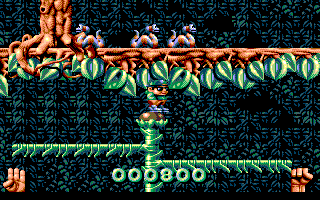 Set in a stem-punk UK the game put you in control of a character selected from a series of six character classes. In the US the Cleric was replaced with a Scientist character in the SNES and Megadrive/Genesis ports. This was one of the first games to get 2 player co-op just right, not to mention that the enemy AI was intelligent enough to actually help you out (you hear that Capcom/Resi dev team!). Once again the title was ported to all popular devices and received yet more critical plaudits.
This seems to be where the world started to slip away from the team at Renegade and the Bitmap Brothers would struggle for the next few years. Changing markets and the collapse of the Atarti ST and Amiga platforms meant that market share was drying up rapidly.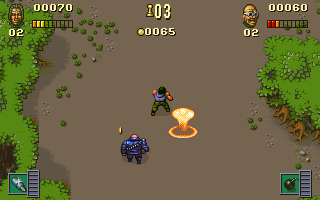 1995 saw Renegade and the Bitmaps leverage the last of their large franchises putting out critically acclaimed titles such as Flight of the Amazon Queen (a super point and click adventure), Harpoon Classic & Virocop (the swan song of legends Graftgold). Two more Sensible Soccer titles, a buyout by Warner Interactive (in 1995) and the teams in-house developed Chaos Engine 2 all failed to stall the slow slide in to corporate engulfment. In 1997 Renegade Software's parent, Warner Interactive, was sold to GT Interactive and Renegade Software ceased to be.
As part of the GT Interactive family the Bitmap Brothers moved on from their comfort zone of the now defunct Amiga and Atari ST and looked to the PC as their platform of choice. Crafting yet another title in a genre they had never tried before, the Bitmaps unleashed Z a real-time strategy title featuring two waring droid factions, one red and one blue. These were mostly made up of a rag tag bunch of junk, drunk droids that fought hard and partied harder. The game gained masses of positive reviews and introduced a few new elements to the bursting RTS genre of the time. Rather than manufacture units from gathered resources you simply captured factories that produced what you wanted and fought to keep hold of them until your manufacture process was complete.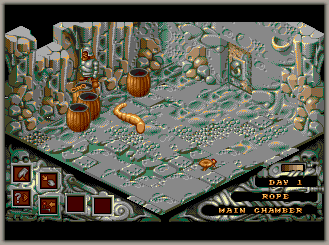 The game had mild financial success and the Bitmap's were given a second run at the genre with Z: Steel Soldiers in 2001. The Bitmap Brothers retrieved the rights to the Z franchise from GT Interactive and set about crafting this sequel. The game seemed to take an age and anticipation rose to fever pitch when the game finally came out in Summer 2001. The game met with some middling reviews and some comments that the game lacked to step forward that titles like Warcraft 2 and Command and Conquer had made.
In 2003 the final original title to carry the Bitmap Brothers logo was another RTS title by the name of World War II: Frontline Command. This game was commissioned by publisher Deep Silver to establish themselves as a publisher of hard core video games. The title built on the work of the Z series and used it to craft a very well received and respected historical RTS. The game received a 9/10 from Eurogamer, with praise for it's historical accuracy. Although a well received title the Bitmaps were once again a victim of fickle gamers moving on from the RTS genre.
In 2004 Mike Montgomery, the only original member still at the Bitmap Brothers, posted that the team were now no more.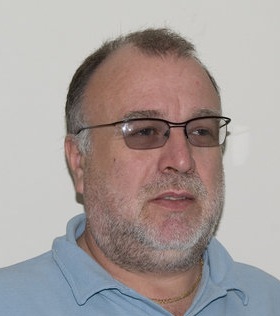 Montgomery and John Phillips set about creating a new studio with former Renegade alumni Jon Hare of Sensible Software. The new studio, entitled Tower Studios, was created to explore new media opportunities and provide industry experience to newly formed teams. The company is still going as of this date and recently put out the iOS version of Speedball as well as original title Shoot to Kill, also on iOS. A brief note in 2010 on the Bitmap Brothers stated they we're back and involved in producing the iOS port of Speedball – nothing has been heard more on the matter.
The team of engineers, designers, musicians, producers and directors that made up the Bitmap Brothers studio have gone on to help shape the industry through their contributions. People like business development head Ed Bartlett went on to setup IGA Worldwide, the company that pioneered in game advertising – maybe not a great thing but an industry innovation none the less.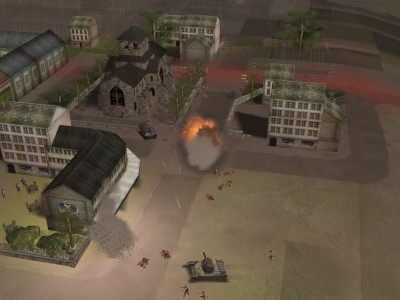 So there we have it, the brief, but incredibly productive history of a company that helped define an entertainment industry. Their products crossed genres, crossed media types and brought together elements of popular culture in to an industry that was in desperate need of a PR boost.
The next time someone bangs on about Mario or Sonic bringing the masses to gaming, or mentions how innovative Starfox was you be sure to remind them that people like the Bitmap Brothers were doing their thing too. If a game studio counts people like Peter Molyneux as a self-confessed avid fan then you know they've been doing something right!