If you are an Xbox Live Gold member, you too could be stabbing fools like this guy, right now!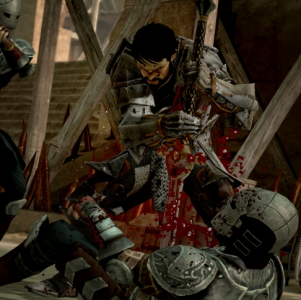 A demo for BioWare's Dragon Age 2 is available for download for Xbox Love Gold subscribers.
The demo is also available for PC gamers, and according to the PC demo page, these are the details of the demo's content:
In the demo, players will venture through the game's prologue, choosing from three different character classes. They'll also learn more about Hawke and hone their skills and abilities that will make them the ultimate hero. After finishing the prologue, players will enter a key new location in the world of Dragon Age, Kirkwall, befriending Isabela, a romantic interest in the game who is also a deadly smuggler. Upon completion of the demo, players will unlock a special weapon, Hayder's Razor, an ancient dwarven blade which increases health, mana, and combat abilities, in the full release of Dragon Age 2.**

This demo represents just a small taste of what Dragon Age 2 has to offer. With a whole new realm to discover, and an all-new hero to become, players will go deeper into the world of Dragon Age unlike ever before in an adventure that shapes itself around every decision you make. The time has now come to engage in action-packed, dynamic combat that allows you to think like a general and fight like a Spartan! The legend of your rise to power, begins now!
Dragon Age 2 will be released for the Xbox 360, PlayStation 3, and PC in the US on March 8, 2011.