It's like Geometry Wars – only WAY better!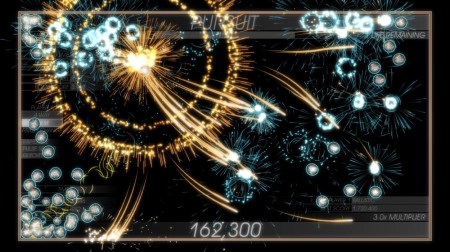 Sometimes the mere mention of a developer's name can bring excitement and smiles to a gamer's face. A developer like Blizzard is a good example, as they have an impressive portfolio of work, their games are almost always of the highest level of quality, and their credibility is unbelievably high within the gaming industry and community.
The Xbox Indie Games scene also had a proven and trusted developer: radiangames. Radiangames is an independent game development studio located in Urbana, Illinois, and was formed in March 2010 by Luke Schneider. The focus of development at radiangames is small, high-quality titles. Since March 2010, radiangames has released 7 games: Crossfire, Crossfire 2, Fireball, Fluid, Inferno, JoyJoy, and most-recently Ballistic.
Ballistic was released in January for 80 Microsoft Points ($1 USD), and just might be the best game ever released for $1. Seriously.
Fans of Geometry Wars will definitely enjoy Ballistic.  Hell, they even might like it better than Geometry Wars – I did! It looks gorgeous, it plays well, the audio is well-done, and it takes the concept of existing twin-stick shooters and introduces some fresh concepts.
The game plays out in waves of attacks in which the player must survive without coming into contact with any enemies.  Much like other twin-stick shooters, like Geometry Wars, the action is fast and frantic.  Occasionally, power-ups will pop-up on screen and allow you to obliterate enemies within the blast radius.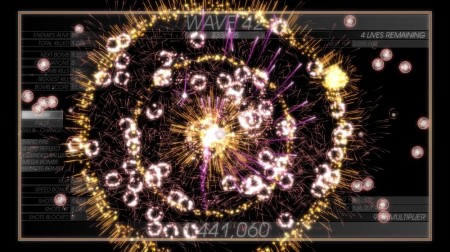 Ballistic also allows the player to choose from several different upgrades to their "ship", like rapid fire and shots that reflect off the walls.  At the beginning only one upgrade can be chosen, but as you survive wave after wave, you are granted the ability to stack multiple upgrades.  Finding the perfect combination of upgrades is a lot of fun!
Ballistic is really well-done.  It has the high level of polish of a large development studio.  At no point — except for the extremely affordable price of 80 MSP — does the game have that "independent game" look or feel to it.  Part of the high level of polish might be due to the fact that studio head Luke Schneider has 12 years of professional experience in the gaming industry, working on games in the Descent and Red Faction series.
The game's soundtrack is also available to listen to or download for $1.99 at the following link: Ballistic Soundtrack.
Final Thoughts: Ballistic is a fantastic game!  I gave it the coveted perfect score for many reasons.  The first reason is that it's REALLY fun!  After playing Ballistic, I prefer it to Geometry Wars.  It's that good!  The other reason I gave Ballistic a perfect score is that there is a helluva lot of game and polish for a $1 game.  It's obvious that a lot of hard work and thought went into designing this game.  At $1, Ballistic offers more bang for your buck than much higher-priced downloadable (and retail!) games.
Bottom line: GET THIS GAME.