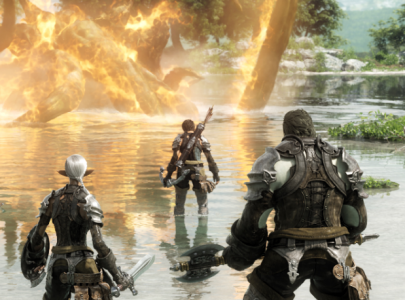 It seems that Final Fantasy may be getting a reboot.
Now before you get all excited about a Final Fantasy reboot — and I'm looking at you SephirothFan420 and AerisForever — this ISN'T at all regarding the ever-popular Final Fantasy VII.
No, the term reboot for the Final Fantasy franchise is for the 2010 release of Final Fantasy XIV.  I know, I know you're probably wondering why a game made so long ago — in 2010 — would even matter in the far-flung futuristic gaming society of 2011, but it seems that there is a possible new direction for the struggling MMORPG, according to Final Fantasy XIV producer and director Naoki Yoshida.
The last few weeks of 2010 were tumultuous times for us all, what with the announcement of the development team restructuring and multiple version updates. Still, I hope you are all enjoying your winter vacations and holidays, and had truly memorable Christmas and New Year's Eves and Days.

As part of the new direction promised, we here on the development and management teams have adopted four new keywords for FINAL FANTASY XIV: fun, live, reboot, and rebuild. Forgive our translators if these buzzwords seem a bit cryptic or cliché, but I am using these English words as-is in the Japanese, and insisted they use the same words for a global resonance.
All jesting aside, it is nice to see this level of initiative and possible commitment to addressing and resolving the issues plaguing this game, but is enough — or can it be resolved fast enough — to truly matter to those playing the game now.  The mere thought of a reboot or a rebuild on a massively multiplayer online game doesn't seem like a quick or easy fix.  Will these improvements even come to fruition before the end of 2011?
I'll try and remain optimistic about this, as their intentions seem good, but we all know quickly New Years Resolutions seem to fizzle out…
Source: A New Year and FINAL FANTASY XIV Player's Poll the First